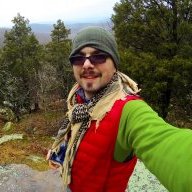 Joined

Jan 21, 2012
Messages

202
Deam Wilderness is one of my favorite places to get away locally. There's around 36 miles of trails that all intertwine. On the north side there's Monroe Lake. (Great place to Kayak.) There are primitive campsites scattered along the trail and a few up near the waters edge. It's only an hour and a half south of my home so I've hiked every trail in the place, but still love going just get some trail time in. Crazy thing is, I see very few people here on the trails.
This past week I got snowed out of doing another trail so I figured I'd get back to the roots so to speak and head out on these trails again.
I headed down on Thursday morning late and started hiking. The snow was fresh on the ground and all around were various animal tracks. I lost count of how many dear tracks I came across. I followed coyote tracks for awhile. Lost the trail for awhile. (Eventually came back across it.) On the second day I hiked over to a fire tower and climbed for the view. While at the top I took a break and had lunch. From there I cheated, I hiked back to my truck and drove to a different part of the wilderness and set off hiking again. When it came time to pitch my tarp on second night I decided to make it more "lean to" and open. (The first night was lower and I ended up with a fair amount of condensation.) This proved to be a mistake. It started snowing fairly early on and lasted for several hours. I had to wake up every few hours to push against the tarp so the snow would run off and not collapse the tarp. Also, the snow blew in the open side on my sleeping bag and face. (Would have been better with a bivy.) Really, all and all, not a bad night though. I even had some free time to build a snowman. I named him Bob.
From there I hiked back to truck and drove back to civilization.
This was night one. The view really was spectacular.​
​
Just chillin' Nice log bench at the first campsite.​
​
Pausing for a break at the top of the fire tower.​
​
My hands were so cold!​
I mounted camera to tripod and stuck it out the window for this shot.​
​
View from tower.​
​
Looking up the tower.​
​
Me and Bob. (Notice how open the tarp pitch was.)​
​
Road in Wilderness on my way out.​
​
Another road shot.​