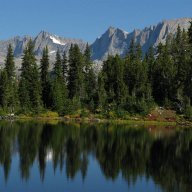 Joined

Aug 18, 2015
Messages

400
Been working on a route for part of Bear Basin by piecing together trip reports, Caltopo maps and Pallister's book. Mostly to show my nephew a different part of the range but also to fish. Trying to make it 4 nights out and still get a good experience. Appreciate any comments.
I've been as far as Native L long ago by going up Roaring Fk (made it in 1d). Several reports (including Pallister's) have that as no longer existing. When I did it, it was tricky to find but well trod once one climbed out of the gully. Know the route over Osborn is shorter, but it's steeper. We are allowing at least 2 days to acclimate from sea level but still figured it's easier to go in via Roaring Fk with full packs and return over Osborn.
Might do a 4 day backpack out of Lander first, so we'd be better acclimated for Bear Basin. If fishing is really good on that trip, I'll spend less time fishing on this one.
Basic outline:
Day 1 - Roaring Fk to Faler via Native L
Day 2 - Fish Faler
Day 3 - Move to Daphne/Bear
Day 4 - Day hike to Kevin
Day 5 - Return over Osborn
Faler in 1 day is a stretch, especially if Native L trail is gone. Also a 1000' drop at the end of a long day. Might have to camp first at Crescent, then move to Faler. Looks like Daphne/Bear is easier (at least shorter) to reach from Faler and there's good camping at both Faler and Crescent.
Route to Daphne/Bear is less than 2m (but through a boulder filled gully if I have it right). Maybe spend half the day fishing Faler Day 2 and make the move to Daphne/Bear in the afternoon?
It's rough travel up there and weather can change unpredictably. Maybe smarter to carry at least 1 tent with us on the day hike?
Would need decent stretch of calm weather for this to work, but we're pretty close to the best bad-weather exit at Roaring Fk.
Also debating going in over Lost Eagle to Baker L to see that area. Don't think we have enough time to do the entire loop though. Have at least one other 4 day trip out of Lander and want to squeeze in a day hike near Dubois.
PS
Anyone else notice Caltopo calls the Roaring Fk trail "Roaring Fork Road"?