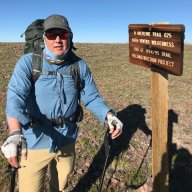 The mountains are calling and I must go
.
Joined

Mar 31, 2013
Messages

1,018
A
Forbes article
states that magnetic north
is constantly changing, approximately 7 miles a year, and the change lately has been 34 miles a year requiring an update in magnetic north.
As one who uses modern tech for navigation but always has a map and compass, I'm curious what this means in reality.