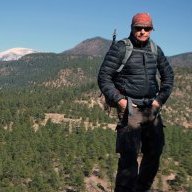 Joined

Aug 19, 2016
Messages

459
Not enough specific information to put in the resources section so it's here. No photos, just narrative. My camera was fritzing that day.
I have been in Sheiks Canyon in Cedar Mesa a number of times with the intent to go all the way down to Grand Gulch. It is an excellent short cut to the Gulch and to Green Mask Alcove and all that's there.
Every partner that was with me balked about going past the flat part of the canyon. The first small pour off can be intimidating to some people. The trick is to stay to the right of the wash but to stay off the slick rock edges. You'll will see cairns in places where they ought not to be, like on those aforementioned ledges or on the opposite wall. Stay out of there.
According to accounts I have read, there are three pour offs you have to negotiate, I can't relate except the last one because it is massive. The first thought when seeing it is, something like, "You mean I have to get around that!?" The method is the same as before. Stay to the right! This last section is where you need to pay attention because it is steep and loose in places. This is especially true coming up because it's easy to get off route and find your self in too steep terrain. Watch your route going down and take a look back as you go.
Once you are on the flats again, Grand Gulch is about 10 to 20 minutes down canyon. All the stuff you came for is (once again) on the right where the Sun is. Some of it is high so send your eyeballs where they need to be.
Our time for the round trip with plenty of time at the sites was around 6.5 hours. Hike time was 5 hours with 2.5 hours from Gulch to the flat part of Sheiks. We are fit folks in our 60's. Your mileage and time will vary of course.
I do not recommend this route backpacking unless you are going
very
light.
This is a fantastic hike. It may be the best day hike I ever done. Do it! You can.