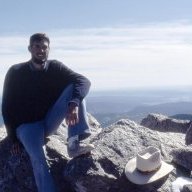 Joined

Feb 1, 2014
Messages

394
Nebraska is not a destination place. No National Parks here. Only a couple of National Monuments. In fact, very little publicly owned land anywhere. About half of the State's population live in 3 counties on the eastern edge containing Lincoln and Omaha. There are 90 other counties most of which are experiencing declining population. There is actually quite a bit of backcountry in this State. Unfortunately, accessing the vast majority of it would be an act of trespassing.
Most people who've been to Nebraska have driven the I-80 corridor down the Platte River valley or along the Missouri River valley. It would be natural think that Nebraska is miles and miles of cornfields and that's what it is along those two areas. But about 1/3 of the State is covered with sand dunes. Some of that is farmed along river valleys but most of it is covered with grass and is basically what is left of native prairie in North America. In Nebraska it is known as the 'Sandhills'. The Sandhills is basically ranch land and has a very low population density. It also has some increasingly unique wildlife due to habitat loss nearly everywhere else.
So, the wildlife I went out to the Sandhills to see were Sharp-tailed Grouse. The range of these birds is mostly limited to Nebraska, the Dakotas, Montana, and portions of Wyoming and Colorado. I had read about some blinds on the Nebraska National Forest. In this time of Covid-19 it was also an opportunity to practice some social distancing. I called the Forest Service to find out if the place would even be open. They told me that I couldn't use any campground or any facilities anywhere but I was welcome to pull off anywhere else and camp and I could use the blinds - first come first served. Oh, and by the way, I would need a 4wd vehicle to get to the blinds. Ok. No problem. I didn't think the 'first come first served' part was going to be a problem. An ice storm was predicted during the daylight hours that day with overnight temps in the low teens and winds running about 20 mph - so wind chills around zero. I didn't think anyone else would stupid enough to go out there. Turned out I was right about that. It also turned out to be one of the colder nights I've spent in a tent.
I got a map to the blinds but could not find them on Google Earth which was concerning because there was a note that a half mile walk was also required to get to the blinds. Due to my work schedule I knew I would not arrive until just before dark. I was not looking forward to trying to locate them in featureless grassland in the dark. It turned out that they weren't hard to find at all.
Here's what the blinds looked like in the daylight. The Forest Service said that this could accommodate 3 people but I think that's stretching it. Fortunately I brought a lawn chair. There was nothing to sit on in there and it wasn't tall enough for me to be able to stand up.
Last light from camp
There are very dark skies here so I got up early to try to get a Milky Way photo. Unfortunately, the Moon was still up in the western sky, there were some clouds on the horizon and the air seemed Misty. No Milky Way to be seen. But I wasn't going to crawl out of the sleeping bag for nothing and not get something.
Went back to bed and got up an hour before sunrise to go out to go to the blind. View from the blind while I waited for enough light to get pictures.
I didn't know what to expect - whether the birds would be close or far or how many there might be. I wasn't prepared for them to be close. It turned out that there were many birds and many came very close. One even landed on top of the blind once.
This is mating season for the Grouse and they do mating dances which involve calling and very rapid stamping of their feet. The males also try to drive off the others and so there are many face downs, spreading of wings and jumping in the air.
Grouse aggression.
Back at camp. Social distancing.
While this is part of the National Forest there were no trees in this area. But there are trees. The forest was actually planted during the depression. This was taken from the Fire Lookout Tower.
The Fire Tower itself.
Thanks for looking.