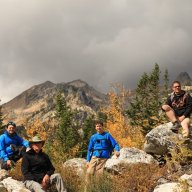 Joined

Aug 21, 2018
Messages

173
I was fortunate to spend a week in Yellowstone National Park this past September 15-22, 2018. This year's trip was going to be a bit of a wild card due to the fact that I was bringing three family members with me, none of which had previously crossed the Mississippi much less been to Yellowstone (to be fair, my brother in law has traveled but usually he and my sister end up at resort type locations). Without all the details I will say the trip went better than I had hoped and of course there were some surprises (both good and bad) along the way -- I did not get as much time as I would have liked in the backcountry but managed to fit in a couple nice day hikes.
This summary covers the day of September 18, 2018. The original plan was to have Dad/Brother drop off Brother in Law (BIL) and I at a trail head while they continued on to Cody, WY. I had considered Avalanche Peak, Howard Eaton, Pelican Valley, and Mt. Washburn (trail was closed). . . due to some excitement the day before and reaching the Canyon bear spray rental kiosk too late BIL and I had to wait around for it to open in the morning and missed our ride. This meant that unless we snuck in/on an unknowing motorist's vehicle we would be spending our time in the Canyon area of the park. Bear spray in hand we found the trail that connected Canyon Cabins with the Upper Rim Trail.
I borrowed a map from the web and attempted to trace the approximate path(s) taken over the day. Orange is on the way to Wrangler Lake, Yellowish Orange is on the way back. I apologize for posting a map that has roads, names, etc. on it.
Of course there were already people at the Upper Rim Drive viewpoints, but BIL and I took the side trip down to Red Rock Point and were the only ones there for about 20 minutes. The view and solitude was nice but we knew there was a lot of ground to cover so back up the hill we went.
Morning View from Red Rock Point:
We followed the North Rim Trail as far as we could -- there were some trail closures between the North and South rim of the canyon so we found our way to the main road and followed it down to the Wapiti Lake Trailhead on the South Rim Drive. This is where we for the next number of hours we left the roads and people behind as we hit the trail.
Venturing forth from the Wapiti Lake Trailhead. . . what awaits on the other side of the hill?
The Wapiti Lake trail took us across an open meadow with views into Hayden Valley. We reached a small forested hilltop and the trail forked right as the Sour Creek Trail or continued left as the Wapiti Lake Trail. BIL and I chose left/Sour Creek and after 0.7 mile took the right spur on the Wrangler Lake Trail. The trail alternated between open sagebrush meadow and pine forests. Several lone Bull Bison were staggered at various points on the trail -- we made sure to give them a wide berth in the open meadow areas.
Soon we arrived at one of the tributaries of Sour Creek. BIL was in survival mode so he felt the need to try out his life straw. I chose to drink the water out of my bottle.
We were able to hop across the tributary easily enough but crossing Sour Creek involved getting our (bare) feet wet.
A short time after the creek crossing our lunch stop destination came into view.
We took a rest at backcountry campsite 4W1 and consumed Reeses Pieces, Clif Bars, Mixed Nuts, and a bit of Beef Jerky for Lunch. Sorry about my white chicken legs. I do not usually wear shorts.
Wrangler Lake looks to be surrounded by trees with a large compliment of lily pads.
After lunch we started back the way we came once again alternating thru the meadows and forest.
At one point I had that feeling of being watched. A scan of the neighboring hillside caught this guy (or gal) keeping an eye on us.
Once we were deemed not to be a threat our curious canine friend went back to looking for ground critters and must have heard something/pounced.
We watched for awhile but eventually the coyote (we debated vs. fox with that fluffy tail but I thought a fox would be smaller) disappeared over the hillside so we moved on as well. BIL took a turn at listening for ground gophers but came up empty.
We once again crossed Sour Creek -- the water was quite cold but felt good on the feet.
View from the meadow surrounding Sour Creek.
On the Wrangler Lake Trail we noticed a contrast of colors to the North. We wandered over a bit to see the colors were a thermal area -- we did not venture in due to Yellowstone's current policy on staying out of backcountry thermal regions.
Working our way back to the trail we stumbled onto these -- I tried to convince BIL they were a former hiker but I don't think he believed me.
We met up with the short section of the Sour Creek Trail and followed it up to the Wapiti Lake junction atop the hill.
The map suggested we could cut across North/East from the Sour Creek Trail and eventually catch the Wapiti Lake Trail but this guy was standing right in our potential path.
He must have liked this area or wanted to see what we were up to as once we were on the Wapiti Lake Trail Heading East Mr. Bison continued to be in our way.
We did eventually find a way around him and ended up crossing a Northerly section of the same thermal area noted earlier.
We headed East on the Wapiti Lake Trail and turned North at the connector to the Ribbon Lake Trail. We passed several more backcountry ponds/lakes -- I suspect this one is Ribbon Lake.
The trail took us North mainly thru forest; at the Ribbon Lake Trail Junction we decided to take the short spur to backcountry campsites 4R1/4R2. There were several nice views into the canyon from here but I did not get too close -- I have a slight phobia of heights.
We worked our way West along the Clear Lake - Ribbon Lake Trail -- it was again mostly thru forest with few views beyond. We took the short North connector trail past Lily Pad Lake that led to the South Rim. For some reason this long dead tree caught my eye at lily pad lake -- I could not quite capture how the light was making it glow in person but we were feeling some of the miles and my patience was down a bit.
As we reached the South Canyon Rim we once again started to see people. Artist Point was about a half mile to the West and some folks had ventured out to greet us. Very nice views from the canyon rim with me still keeping my distance from the edge.
Upon reaching Artist Point BIL and I decided to take the road back as we worked our way to the lodging in Canyon. The sun was beginning its descent and at some point Dad/Brother would be on their way back from Cody. They could either pick us up or we would have a straight forward route to get home. As it worked out we walked about three miles on pavement with Canyon Junction in sight when their car pulled up. BIL and I were standing near the road watching a bull elk chasing his harem.
Dad/Brother brought us back pizzas from Cody; while I wanted to walk back the rest of the way on principle I was drawn into the car by food and had my pizza half eaten by the time we reached our room. I intended to get a picture of the nights supper but by the time the thought returned to me nothing was left but crumbs and a couple of empty beer cans.
Overall a good day --I think we covered between 15-17 miles (including the road) but did not have any way to prove it. I know this is not your typical story with walking on roads and drive up viewpoints but hopefully the middle portion was worth reading. Thanks if you did!