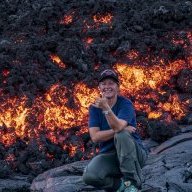 Joined

Jan 19, 2012
Messages

4,070
Last year I hiked to Imperial Meadows and Fairy Falls from the Fairy Falls trailhead. I loved the hike so much that I wanted to do it again this year. So I decided to start from the opposite side this year, at Fountain Flats trailhead.
Fountain Flats trailhead is definitely less visited and I had no issues finding a parking spot.
The trail passed Ojo Caliente hot springs and then went through the nice open meadows of Sentinel Meadows before turning into Imperial Meadows. I passed some wonderful geothermal areas before I headed to Imperial Geyser and Fairy Falls.
From there I went to Grand Prismatic Overlook and walked back Fountain Flats Road to Goose Lake, where I headed back in the Imperial Meadows and Sentinel Meadows trail back to the trailhead.
It was a wonderful 16-mile hike which was mostly flat with only 776 ft. of elevation gain.
Soon after I started on Fountain Flats Road, I came to Ojo Caliente, a hot spring along the Firehole River.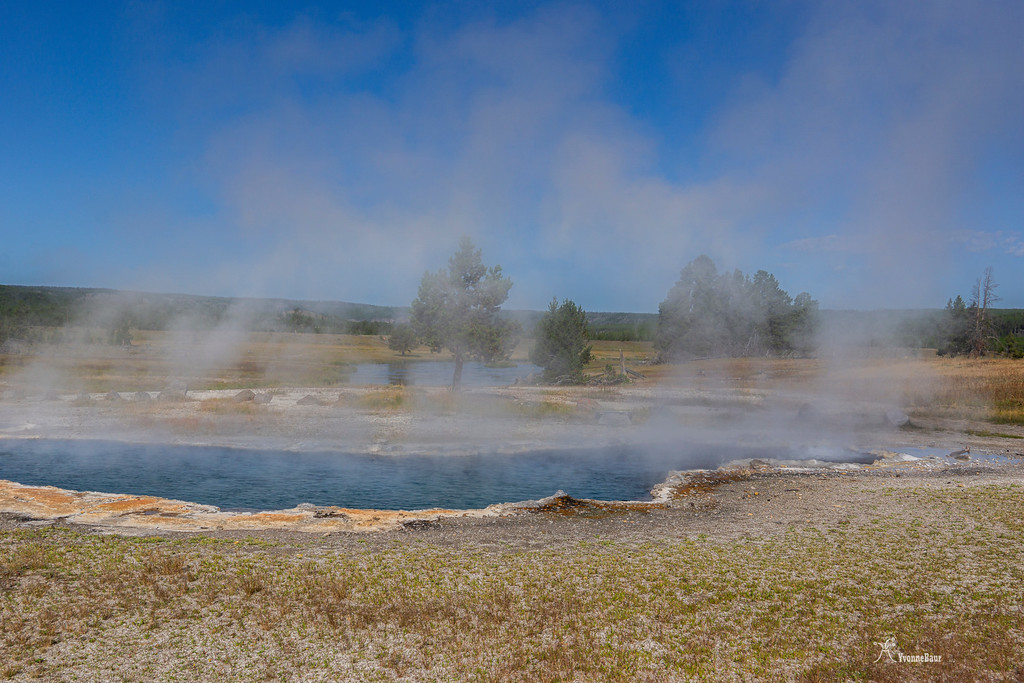 It was up to this point, where I actually only saw some visitors. The next 4-5 miles I had it all on my own.
Ojo Caliente with a glacial erratic
I crossed the Firehole River and continued on the Sentinel Meadows trail. Wildflowers were still out in abundance.
As soon as I came close to the first campsite, OG 1, I saw a coyote in the meadow hunting for mice.
It was pretty neat to watch it for a while.
The trail passed some open areas and meadows and after a bit, I reached the first geothermal areas. No boardwalks or fences, the trail just went through it.
The colors of the hot springs were amazing
After the trail junction with Fountain Flats Road and Goose Lake, I came to another geothermal area. This area offered nice views toward the Twin Buttes in the distance.
something is boiling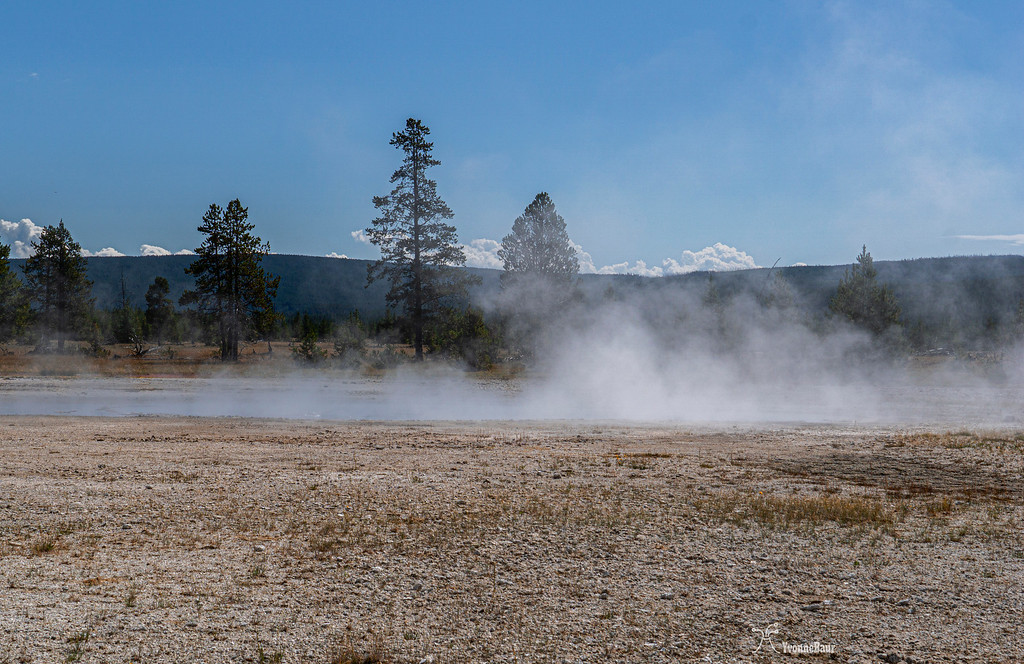 steam in the distance
After a while, I crossed Fairy Creek which meandered through the meadow in slow and peaceful motion.
Another trail junction came up and I turned toward Imperial Geyser. The short detour is definitely worth the trip and the emerald green and turquoise pool of Imperial Geyser is a great eye-catcher. I stopped for a little lunch break.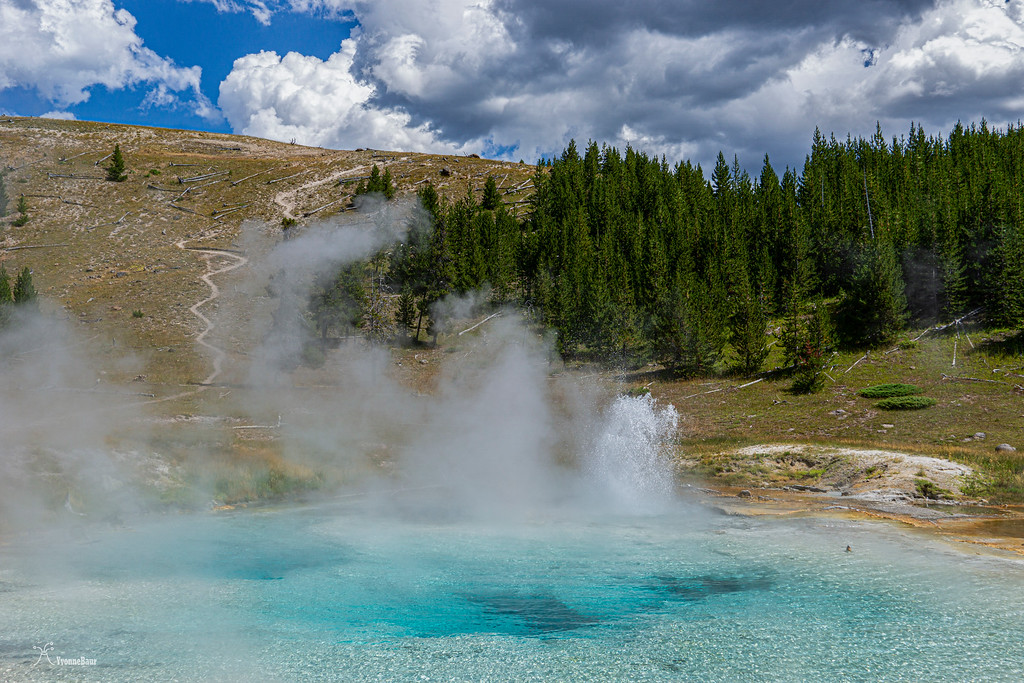 There is a small hill with a steep path going up and I scrambled to the top and enjoyed the views down to Imperial Geyser. It definitely offers a different perspective.
From there I walked cross-country across the meadows below Twin Buttes. Several small lakes with water lilies cover the meadow and the wildflowers were in abundance. I definitely have to explore the area a bit more in the future.
Expansive views everywhere
From here, I continued toward Fairy Falls and this was actually the first spot, I encountered other visitors.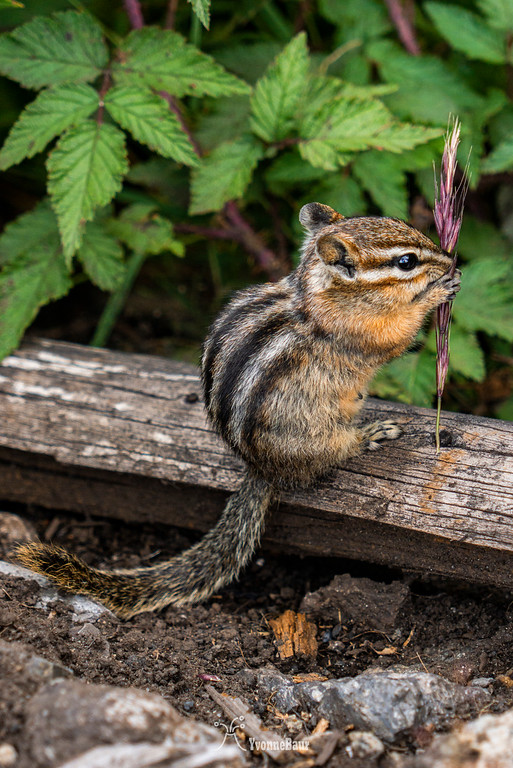 Chipmunk having a lunch break
Fairy Falls is pretty impressive and is plunging down about 200 feet. The pool at the base is pretty neat and I enjoyed the view for a while.
From here, I continued on the trail toward the viewpoint to Grand Prismatic Spring.
Looking back to Fairy Falls
The trail went through a forest of Lodgepole Pines that all were pretty young and started to grow after the 1988 fires. It's definitely nice to see all the regrowth. s soon as I turned on Fountain Flats Road and to the viewpoint, I was busy like crazy. Definitely not my type of hike. So I just stopped for a quick shot and escaped the circus as soon as I could.
the backside of Midway Geyser Basin
As soon as I was away from the area, it was a lot more enjoyable and I walked along Fountain Freight Road toward Goose Lake.
Goose Lake
From here I decided to hike back via Imperial and Sentinal Meadows and not talking the short way back to the trailhead. The scenery was just too nice and I didn't mind a few extra miles.
Fritillery butterfly on an Aster
Pretty soon a storm moved in and I finally got some dramatic skies. I always enjoy storms on my hikes and they last few miles back to the trailhead a storm cell followed me.
I stopped again at the geothermal area and enjoyed the hot springs.
The storm kept moving in and eventually it hailed on me pretty bad for a few minutes
Back at the trailhead, I dried up fast and enjoyed a nice after- hike snack. This is definitely a hike I can do over and over again and with 16 miles it isn't too long as well.
But I will definitely not attempt to do it again from Fairy Falls trailhead. I really enjoyed Fountain Flats and all the solitude from there.