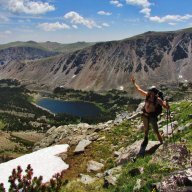 Joined

Mar 24, 2016
Messages

26
The first significant snow event in the Bitterroot for the coming winter season in Nov. 2015, and I was blessed to be in the heart of the mountains on my way up to the Crest via Bass Creek to spend the night in a cold windy flurry. The trailhead is only a ten minute drive from my cabin, so i go there all the time with my bike. This time I got some really awesome pictures. 16 mile round trip hike through some incredibly beautiful and inspiring snow scenes. I walked through a world of black and white as if I was living in an Ansel Adams photo.
View of the cliffs above with snow comin down.
If you listen to Viking Metal like I do, this scene is Epic.
Bass Lake: Not ideal camping conditions, but.. here I am.
Sweet Metal Album cover. I love unintentional B&W shots
forboding snag just before the lake.
Heading back down. This is a very signature spot here in the Bitterroot.
Thanks for enduring another one of my SBW posts. I should start mixing it up more...