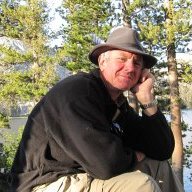 Joined

Sep 30, 2014
Messages

673
This trip didn't go exactly as planned-what trip does?--but it turned out to be a bit more than we usually tackle, and it took us a day or two to recover afterwards. We normally hike 6-9 miles a day, and this trip was ten miles every day for four days.
Day One. We spent the night "dispersed camping" at the trailhead. This is legal here, since it is not in either of the two national parks. In fact, at the Rowell Meadow trailhead there is a vault toilet and a fire pit. At our trailhead, Horse Corral, there is a parking lot and nothing else. And there was a fair amount of traffic in the parking lot, since it also serves the Sequoia High Sierra Camp. The only people who signed out trail register during our trip were all either going to the SHSC or doing the great day-hike to Mitchell Peak, our top day hike in the Sierra.
It's a steep climb for a mile up to Marvin Pass, and we startled a bear in the first 300 yards as we started up the trail. He took off and a full sprint down the hill, again confirming that no human can run nearly so fast as a bear. They can absolutely fly, over hill and dale, through bushes and trees. Amazing.
And we saw the footprints of another large carnivore here. Note the puma track below. We saw these for about a mile along the trail...
From the top of Marvin Pass the trail climbs and drops for a couple of miles until it drops down steeply into the Sugarloaf Valley at Comanche Meadows. A mapping note here: various maps show between zero and two different trails along this route. There is one trail, you cannot miss it, and there is no other trail.
There is also some minor fire damage on the last 1/2 mile before Comanche Meadows, but it was bursting with wildflowers when we were there. On the other hand, there weren't a lot of views from this trail, and what we saw concerned us--lots of smoke from the Big Sur fires made visibility pretty darn poor.
The rest of the day was spent on a long and relatively flat hike down the Sugarloaf Valley, past Sugarloaf Dome itself (photo below), across Sugarloaf Creek, until we finally made camp at Ferguson Creek. Our NatGeo map says that from Comanche Meadows to the Roaring River Ranger Station is seven miles. The NPS signs say it is nine. Having hiked it, we think it is closer to seven. But the map also shows a creek coming out of Ellis Lakes, and that creek was bone dry when we hike by in early August. It's hard to imaging it carrying much water any other time during the season. But Sugarloaf and Ferguson Creeks were both running fine.
On the other hand, P was hoping to fish those creeks at some point on the hike, and they were both small enough and, in the case of Sugarloaf Creek warm enough, that he decided to give the fish a break.
We hadn't seen soul on this hike so far, except for the bear. Late in the evening a ranger and a string of pack horses came through Ferguson Creek with supplies for the next few weeks.
Day Two. Up early and headed off to Roaring River. This part of the trail goes up and over a ridge, and then follows the Roaring River (which was at least growling happily) up to the ranger station. We stopped in and chatted with Ranger Cindy, since we'd been given a kind of introduction by someone on a backpacking forum. Cindy was full of great recommendations of books to read (she has plenty of time to read!) as well as some of the historic sites and relics we might visit on our trip. She also clarified some of the confusing printed regulations that we'd been given when we got our permit. We must have spoken to her for almost an hour--a real pleasure!
From there it was a straightforward hike across the bridge and up Cloud Canyon for about seven or eight miles. P had hiked this forty-six years ago, and had always wanted to show it to M. The trail alternated between a few steeper sections and lots of strolling along the river, but biting flies and mosquitoes finally convinced us to put on some DEET--although not headnets. By mid-afternoon we were up into Big Wet meadow, where we were greeted once again with one of the great views in the Sierra. Above the meadow, we climbed up to the foot of the Whaleback, where we had been told there was a use trail to take us further up the canyon. (The main trail crosses the creek at this point, and then climbs up the side canyon to Colby Lake.)
The use trail was not obvious--we only found a slim trace of a trail, marked by a single rusted tin can, and we decided that we would camp here, and decide about the trail the next day. We set up camp, and P caught quite a few brilliantly colored smaller golden trout (5-8 inches) in the stream. That evening the clouds rolled in, and we heard thunder in the peaks above us. As night fell, the clouds seemed to have dispersed, and we turned in for a solid night's sleep. But at four in the morning the clouds were back, and we scurried around to tidy up our camp a bit more for the rain. And it rained.
Day Three. Dark clouds all around. We ate breakfast and talked through our options. Our initial plan had been to hike up Cloud Canyon and over Coppermine Pass today...but with clouds, thunder and lightning, that struck us as being a poor idea. The last thing we wanted to do was to be up on top of a 12,000 foot ridge during those conditions. We could hunker down for the day, and hope that the weather would improve, but that didn't appeal to us as much as hiking back down to where P could fish the river for larger trout...and so we headed back down to Roaring River. We got sprinkled regularly during the hike down, but by the time we got down to the ranger station the clouds were looking a bit more hopeful. As we chatted with Cindy, she noted that Cloud Canyon often gets the most of the bad weather--thus the name!
We ate lunch at the historic cabin nearby, and then took the afternoon off, hiking down about a mile below the ranger station, and finding a lovely isolated campsite near the river.
(In fact, the only place we ever saw any people on this trip was within about 100 yards of the ranger station.) We took a nap, to make up for our interrupted sleep the night before, and then M went swimming while P caught about fifteen trout between 7-12 inches over the course of ninety minutes of fishing: browns, rainbows, and even a couple of golden/rainbow hybrids. He even kept two of them to supplement our couscous for dinner, and we ate like royalty that night.
Day Four. We had decided to take two days for the 12 miles back out, and didn't get an early start. By this time M wasn't feeling great. She was suffering from some kind of allergy attack that made her congested most of the night, and kept her from sleeping easily. So we were going to take it easy, and make life easy for her.
But the trail back along Sugarloaf Creek went quickly, and we were in Comanche Meadows by lunchtime.
There followed a discussion. Comanche Meadows is more of a way-station than a destination--not a great place to camp for a day. The creek is small, the views are limited, and so we decided to keep hiking, this time following the trail to Rowell Meadow instead of the route we had taken in. Two miles of steep and continuous climbing put us at the top of the pass, and treated us to some fabulous views as well. That's the Sierra Crest from the trail above right.
From there, it was only a little over three miles to the car. And at that point, we decided to wrap it up. We hiked back to the car and took off our packs about 4:30 in the afternoon.