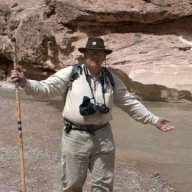 Joined

Sep 27, 2012
Messages

15
Barrier Canyon Pictographs from Site 2
The rock art panels in Sego Canyon (aka Thompson Canyon) are some of the best Barrier Canyon Style art in Utah. The ratio of impressiveness to difficulty of access is quite high. There are also some very high quality Fremont figures here too
These rock art panels are easily accessible by car along a paved road. Exit I-70 at the town of Thompson, exit 187, and drive north through the town and up the canyon for about 4.4 miles. There is a parking lot on the left-hand side of the road.
There are four main panels here which I have numbered rather arbitrarily from north to south.
Panel 1 - BCS and Fremont and other. Next to old corral.
Panel 2 - BCS pictographs
Panel 3 - Fremont on top of older BCS
Panel 4 - Ute and modern
Location of the Four Main Panels
Panel 1
The first panel is the least well preserved and is a bit of a mixed bag. There are several barrier canyon style (BCS) pictographs on the right side under an overhang. There are also several smaller Fremont petroglyphs of sheep and assorted other petroglyphs here. High on a smooth face to the left of the overhang is an extensive panel of petroglyphs from a variety of eras, including some relatively recent "cowboy glyphs."
View of Site 1
Barrier Canyon Figures on the Right
Smaller Fremont Figures on the Right
Higher Figures on the Left
Panel 2
This pane faces northeast on the same outcropping as panel three. It is mostly BCS pictographs, though there are some Frement style glyphs at the bottom of the panel. These figure are some of the best BCS around. Though not as impressive as the figures in Barrier Canyon itself, they are quite well preserved with a variety of different images, all clearly in the same ghostly BCS style.
View of Site 2 from the Corral
Panel 3
This panel is on the same outcropping as panel two, but faces southeast. It is the first or second panel you will encounter if you stop in the parking lot.
There is are several stunning Fremont style petroglyphs here including a pair of anthropomorphs that strongly resemble the Vernal style Fremont figures with necklaces and jewelry. Actually, they seem to be a sort of cross between the richly detailed Vernal style and the simpler trapezoidal anthropomorphs found in the San Rafael Swell area.
These figures have been etched on top of and below some rather faded BCS pictographs that are difficult to see, particularly in full sunlight. They pop out rather nicely when run through the DStretch filters, however.
View of Site 3 from the Parking Lot
Panel 4
This is the most recent set of figure. Most are Ute and some show horses and must therefore date to post-Columbian times. There is even one that looks like a train or truck. The most impressive art here are the circular shields.
View of Site 4 from the Parking Lot
Links
Here are links to full sets of photos from each of these sites:
Climb-Utah Description
BLM Description
ScienceViews Description
Reposted from my Utah Rock Art blog -
http://utahpetrographs.blogspot.com/
Featured image for home page: