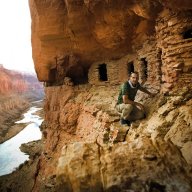 Joined

Feb 5, 2021
Messages

134
Hi, I'm getting ready to apply for an October permit and looking for any advice/suggestions from those of you that are familiar with Kanab Creek. I've read so many different trip reports that it's all blurring together and all the different options are making me a little crazy. I'm operating under the assumption that it will be dry…so fewer obstacles to overcome but also knowing that only the most dependable water sources may be available..

I was originally enamored by the Kanab/Cranberry loop but have decided that's not something that sounds like I should be attempting since I'll likely be solo. For background I will be 63 and have only backpacked a few times and no more than 2 consecutive nights, but I'm in good shape, cover ground efficiently, and am not bothered by long, hard days (I did the hike to the Nankoweap granaries last Fall…down one day, spent the night, then hiked out the next day).

Ideally I'd do as little backtracking as possible, however I'm not seeing much hope of that at this point. I've done Deer Creek before, so given the long slog along the River from KC to DC that doesn't hold any more appeal than just doing an out and back in KC.

The route I'm currently considering is to spend the night at the Sowat trailhead, be on the trail at first light and take one of the routes down and into Jumpup, then turn up KC and dry camp outside the NP on night 1. Day 2 would be down KC all the way down past Showerbath to the Slide, then spend night 2 somewhere between there and Scotty's. Day 3 would be spent going all the way up Scotty's and doing some exploring up near its head, then back down and camping near Showerbath on night 3. Day 4 would return up canyon, probably to Mountain Sheep Spring, camp there, and return to the trailhead the next morning.

Do any of those distances sound unreasonable? Any of the routes down from Sowats better to take going up versus going down? Any other comments? I know there's a steep route from the rim to the top of Scotty's (thanks fossana) which would trim off a few miles and eliminate the need for a 4th night, but it doesn't reduce the amount of backtracking.

Thanks in advance for any and all suggestions. I appreciate the vast Canyon experience that exists in this group.