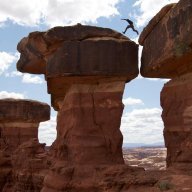 Joined

Jan 17, 2012
Messages

328
Heading down late-night Friday to the Moab area for some weekend festivities and was hoping someone could shed some light on any free, easy access campsites just off 191. I've camped down in the area numerous times, but always as a fortunate passenger of a 4wd vehicle. Problem with this visit is I'll be driving my own rear-wheel Ford Ranger.

From what I understand and remember, a lot of the area just west of 191 has decent roads but is technically illegal to camp in (unless you go pretty deep) and requires portable toilets, no? And I've camped along the Salt Valley Rd before it enters Arches several times, but it's quite sandy and pretty much devoid of fire rings, yeah?

With all that said, can anyone suggest any decent quick access 2WD sites in this area that I might be missing or forgetting? Or am I SOL? I'd prefer not to pay for a noisy site along the Colorado if at all possible.

Thanks in advance.