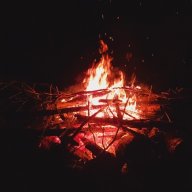 Joined

Aug 13, 2019
Messages

138
Hopefully last week of August.

Haven't nailed down permits yet so we may be limited.

My wife has fears, many unwarranted...she'd allow those to decide where we went...and I'd be car camping in some boring place with no wildlife to worry (or for me, be excited) about!

She'd like to see people around.

I'd like a few around but not many.

She'd like to hike only a few miles a day...

I think we could do 8 to 10 miles a day.

We'd both like incredible vistas and nature.

I'd like to go into a remote place but not panic attack remote!

She would be happy with whatever landscapes we come across...

I actually DON'T like being so far above tree line that everything looks like a rocky lunar landscape! (I don't mind being above tree line, I just don't want to spend the majority of our trip there)

I'd like lots of forest, beautiful creeks and streams, beautiful ponds and lakes, with mountains as backdrops...and the chance to see just about any and every kind of wildlife that is in the park!

Appreciate any and all suggestions!

PS - Who is going to invent something where couples can get together with other couples for backpacking trips so that wives calm down and understand that there is probably little to worry about?!