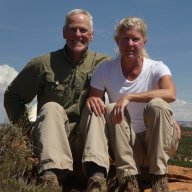 Joined

Dec 7, 2017
Messages

264
April 22, 2019
After a good night's sleep at our campsite in the San Rafael Desert, Blake and I headed out in search of Moonshine Wash. We'd heard about the slot canyon several years ago, maybe on the TV show "The Desert Speaks" (?) and ever since had wanted to see it for ourselves. We enjoy the twists and turns and "what obstacle's going to be around the bend?" of slot canyons. Moonshine didn't disappoint.
Blake at the first down-climb:
Starting to get slotty:
In the wash we found this dead rattler, a dead bat, bunches of jet black fur (skunk??), bones, and a butterfly wing. They added to the mystique of the canyon.
Just when I thought we'd somehow walked past the old sheep bridge:
Eventually we made it to the junction with the west fork of Moonshine which, apparently, you can drive to as we saw numerous tire tracks in the sand. It was our intention to hike up the west fork to make a loop, but were stopped in our tracks:
We wouldn't have minded (
too
much) wading through the murky pool. But, water was actively flowing down the crack and we knew any attempts to climb up the slippery sandstone without a top rope would have been futile. Dang! We were wanting to see the old 'shine operations. So, back the way we came we went.
From there we headed south to the Hans Flat Ranger Station to pick up our permit for The Maze. I can't begin to count the number of times I've talked with the folks there and it was nice to finally put faces to names. We politely listened to the spiel about no wood fires, packing out
everything
, no drones, etc., etc. Zach directed us to a great campsite at the end of Road 777 and we set up camp for the next two nights. Tomorrow's destination was one that I'd been reading about over the past few months...