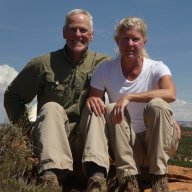 Joined

Dec 7, 2017
Messages

264
April 24, 2019
On this day Blake and I would be moving camp from outside Canyonlands NP to The Neck, located south of the Hans Flat Ranger Station. Along the way we stopped to check out the Flint Trail from the Overview. Just thinking about taking the trailer through those switchbacks made me nervous!
We continued on, dropped the trailer at The Neck, and made our way over to Lands End - the highest spot in The Maze. It's not much to look at from below and, frankly, I wasn't expecting much from summiting it. But, it
is
the highest peak and it's a very short hike to get to the top, so, why not?
Well, it turns out that Blake and I spent more than a half hour at the top with our binos and maps, trying to sort out the names of the various formations, in which canyons the Colorado and Green rivers are located, etc.!
It was a great vantage point with 360-degree views of the La Sals, the Abajos, the Henry's, Needles, and, of course, The Maze.
The rest of the day was spent in a leisurely fashion at The Neck, reading and such.
View from our dining room :
View from our shower :
The next day was reserved for the Harvest Scene!