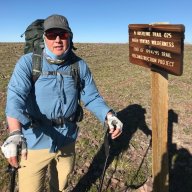 The mountains are calling and I must go
.
Joined

Mar 31, 2013
Messages

1,016
With a free day, I took a solo adventure into the
Cuberant Basin on Friday, September 1.
The Cuberant Basins is one of those areas I have
needed to knock off my list for some time.
The primary purpose of this hike was to find the
Mystery Trail in the meadow above Cuberant,
with a secondary purpose of getting a sense of
where and how Garrett Bardsley disappeared.
And if I happened to meet up with a Big Foot,
well, that would have made the day complete.
Family commitments required that I leave after
8:00 AM and be back by 6:00 PM. With 2 hours
of driving each way, I was going to have to be
fast and focused.
I got to the Pass Lake Trail Head right at 10:00 AM,
got my pack on and was on the trail.
Reids Meadow with Reids Peak in the background.
The temperature was perfect and the trail comfortable.
This allowed me to make good time and I made it into
the basin in an hour.
I had read that Garrett and his dad had been fishing
at Cuberant #4 and their group was camped at #1.
So I stopped at #4 to try and see what Kevin Bardsley may
have seen as his son disappeared.
Having now stood here I don't think this is where they were fishing. You would lose someone on the trail in about 20 yards. I need to get correct info on this.
From here I went off trail following this line of travel up.
Looking at the big lake, Cuberant #1 I believe, as I head northwest. I noticed there were several camp sites along the south side of the big lake. It's my guess that it's one of these sites that Garrett and his group were camped.
Unnamed pond along the way. Location noted in following screen shot.
Looking down during my ascent.
The ascent ended up being much easier than I anticipated. While I never was able to stay on any particular trail on the way up, there were sections where I found cairns pointing the path that someone previously had taken.
The way up was a mix of rock hopping and simply walking up hill.
This is when I knew I was getting close.
Finally reaching the Mystery Trail. This is looking to the north or towards Fish Lake, I don't know the basin name.
This is looking towards the south. Going over the ridge in the distance would drop you into the Cuberant Basin.
Having been there now it's more mysterious than ever.
Is it man made? Is it natural? If man made what was its purpose?
My initial thoughts upon arrival were, this isn't nearly as deep as I thought it would be,
and generally more unremarkable than I thought it would be. I also thought there were places
along it that looked like a dry stream bed. I also had thoughts that it was like a sink hole.
Since it runs a mostly straight line and keeps a mostly standard width throughout its length
it's probably man made.
Looking east.
Looking west.
This is really a massive meadow. My time was limited so I quickly began my return.
The ease that I enjoyed on my ascent led me to be a little more aggressive on my descent.
So I took a line down that was steeper and kept my closer to the edge. In hindsight this
was much slower, but I did get some great views across the basin.
I believe that is Meadow Lake in the center and the Notch to the left.
The whole hike I was looking around and thinking how was Garrett so thoroughly lost
and how come nothing has ever been found?
It is my understanding that he never made it to camp and that he was being searched for within an
hour. Why did he never hear those calling for him?
I've come to some of my own conclusions on this. I heard
Kevin Bardsley speak
a few years ago and
my thoughts don't match his so it's likely I'm way off base.
All and all it was great day and a great hike.