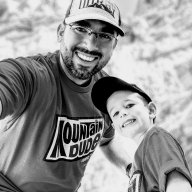 Life Elevated - Rising Higher
Joined

Feb 25, 2013
Messages

600
10 years ago I embarked on dream trip; a dream trip that I hadn't yet dreamed!
I was invited to go on a "yak" trip through fjords of beautiful British Columbia.
It was me and 3 other guys. I was 23, and the other guys--I swear-- were 90 years old! (don't tell them I said that!) They were great guys and I had a trip filled with fun and laughter.
I was Gideon. My fellow "yakers" were Helaman, Mahonri, and Teancum. I received this special name for the duration of the trip. I was able to pick it myself, but I had to be fast. I was almost stuck with the name Jezebel. (worst nickname ever.) With a new trip name, I received the opportunity to research and learn more about who Gideon was; but I was also able to identify myself as somebody else for the trip. 3 of the 4 guys on the trip had never met me. I was able to be a new me; a better me - even if it was only for the 2 weeks I was away.
This was my first real adventure trip of my life. It cost me a whopping $500 for my portion of the trip. That included food, kayak use, and transportation costs. It was a steal of a deal! Also, since this was my first real adventure trip, I was introduced to all sorts of things that molded my mind about gear and packing. It was here where I learned about Mountain House meals, MSR tents and stoves, and how I prefered self-standing tents. I experienced how slow cotton shirts dry in wet climates; and I learned that you can bake in the outdoors and that a warm piece of cornbread, or gooey chocolate cookie taste like heaven in the backcountry.
Since I was the baby of the trip I ended up doing most of the driving. All. 1500. Miles. Yeah, what a drive. It took 3 full days of driving to get to Bella Bella, BC. We camped somewhere in Washington USA, some random river in BC, Canada, and then (finally) a night in Bella Bella, BC.
Ahhh. Bella Bella. This is my kinda town. Tiny, beautiful, and out in the middle of nowhere, hundreds of miles from anything. I was star struck with the heavily forested and massive mountains. I was even more blown away by the milky blue glacial river! and I was mesmerized by the swirling sediment as it mixed with the ocean. I fell in love.
From Bella Bella, we took a ferry to Bella Coola. This ride was one of the highlights of the trip. We saw humpback whales, visited old indian fishing towns, chased bears, watches movies. It was a poor man's cruise! I was in heaven!
8 hours later we arrived in Bella Bella. This was a little fishing town ran by local indians. It was incredible. We arrived that afternoon with perfect weather. The sun was out, the warfs were busy. It was our turn to collect our kayaks and paddle to our first island.
It was my first time ever seeing a sea kayak. I had lots of experience in canoes, but not sea kayaks. I wish someone would have told me about the rudder!!! Once I discovered on my own that I could control the kayak with a rudder my paddling days were so much easier. Trying to steer a kayak like a canoe was less than ideal. I was young. I managed, but still! (haha)
The rest of the week was a blur. Time went by quickly and I had a blast camping and kayaking with these guys. We hopped to various islands and enjoyed seeing the beautiful country we were in. I saw more humpback whale, orca, dolphin, sea otters and I enjoyed using starfish for kayak decals.
Last edited: