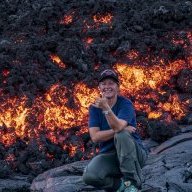 Joined

Jan 19, 2012
Messages

3,609
A scouting trip to Pulama Pali, HI
Since I was a small kid I was fascinated with volcanoes. I don't know where this was coming from but I guess a lot had to do with the awesome documentaries of the French volcanologist couple Maurice and Katia Krafft. It was sad when they died during an eruption of Mount Unzen in a pyroclastic cloud in 1991. In 2009 my dream finally came true and I went to the Big Island of Hawai'i and visited the active lava flow of Pu'u O'o volcano for the first time. Since then I was hooked. And went back and back again.
Then, last year, I ended up snagging the best job ever as a lava tour guide. Sure that I couldn't say no when I was asked if I wanted to work as a tour guide. I moved to the Big Island in June and since then I have been out more than 200 times to the active lava flow. Most of the times with my guests but many times on my own on scouting missions.
One of these missions occurred on December 7, 2017. I had a day off and normal people would love to sleep in and not getting up at 2:15 am as I have to every morning when I lead tours. But I often go on my own on days off as well. This morning I set my alarm clock as well and checked the webcams for some activity. All of us in the lava tour business were waiting for a massive lava flow to move forward and down the Pali on the east flank of Kilauea volcano. I saw some good activity and decided to give it a try. My backpack is always ready the night before so I just needed to grab my gear and drive the 24 miles to the parking area at the end of Highway 130 close to the county gate. Since 2014 a rough emergency gravel road exists and I can park at a friend's property down there and cut my hike short by 4 miles roundtrip.
I started in the dark at about 4am in the morning. I left the road and immediately after 10 minutes and headed cross country across old lava flows.
There is no trail or something similar to it, just old rough lava made of a razor sharp surface of silica glass. If you touch it, you slice your fingers. If you trip and fall, you cut your legs open. For that reason, I wear fleece lined softshell pants. I once had a fall eleven months ago and sacrificed myself instead of my camera. I ended up with 20+ stitches on my leg. Just to let you get an idea of the surface you are walking in the dark.
I pushed forward pretty hard because I saw the glow way up on the Pali (Hawaiian name for cliff). I knew every corner, every rock, and every mount. I knew it wouldn't take too long to get to the base of the Pali and start the steep climb up. Since I walk here almost every day, I knew the fastest and easiest way in and out. I almost ran in the dark across the flat coastal plains covered by lava, the crunchy silica glass surface sounded like frozen snow or ice. There was no way to break through anything down here, everything is covered by a 60-100 ft thick layer of old lava.
It was a beautiful clear night out this morning, many stars in the sky and the lava glow on the Pali. I stopped for a shot.
I took a short break at the base and rested for a few minutes. Then I ascended the steep hill up, next to a kipuka, which is an island of spared rainforest in the middle of a lava field. The kipuka is one of the last remnants of the former Royal Garden subdivision up on the Pali. There used to be 45 houses, but they were all taken by Pele and the lava when Pu'u O'o started to erupt in 1983 and is still doing it continuously for 35 years now. The last house up here burned down in 2012. I climbed the 1100 feet cliff up in about 20 minutes. It was steep and you climb all the elevation in less than a quarter of a mile. You also have to be careful, there is a lot of loose A'a lava in between everywhere. Loose rubble lava is like scree on mountain tops. One wrong step and you tumble down the cliff, shredded to pieces. This is for sure no playground for everyone.
I climbed higher and higher, beyond the crest of the Pali.
After about an additional half a mile, with crossing the active lava tube underneath me, I finally reached the surface flows. I was happy and exhausted at the same time.
I picked a cold spot and placed my gear. Then I set up my camera and started shooting.
cooling crust on top of the moving flow creates interesting abstracts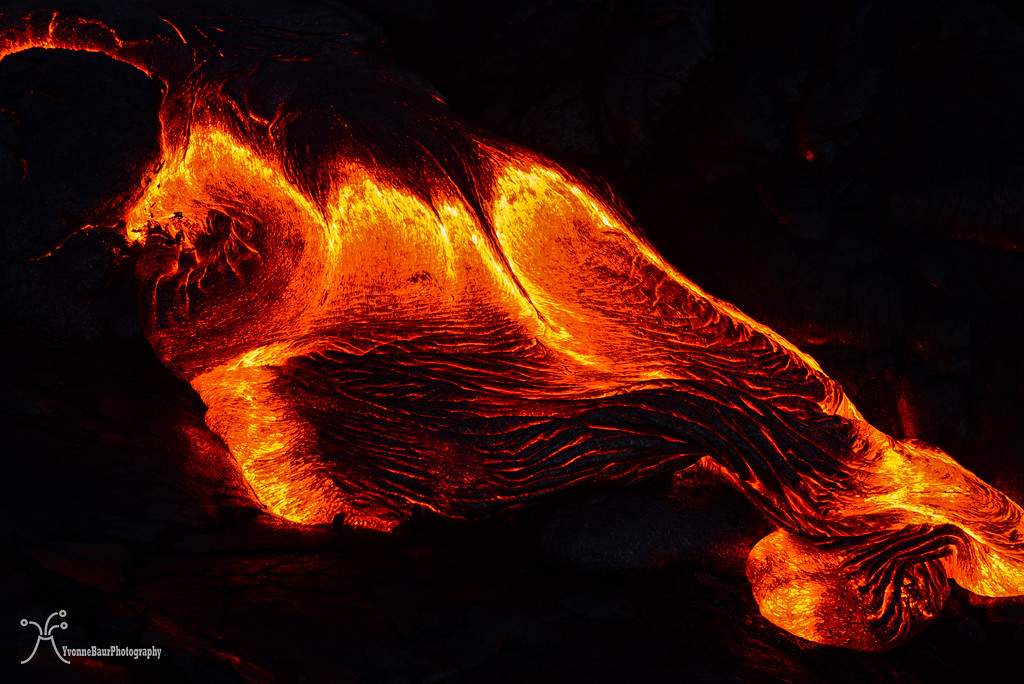 Lava was pushing and moving forward pretty fast this morning.
It flowed and flowed, I was super happy and excited.
I had breakouts everywhere, lava rivers were coming down the steep part of the Pali. It was hot as hell.
Even when the flow cooled on the surface it was still about 1100F hot. You can't stay too long at the same spot or it will melt your shoes and the rubber of your tripod shoes.
a fast flowing river of Pahoehoe Lava
Tube ruptures right out of the lava tube system can be as hot as 2200F and you can't stay too close to it. The regular rivers of lava usually average a temperature of about 1600F. Still pretty hot and I guess it is understandable that I usually need about a gallon of water on each scouting trip.
Sunrise occurred soon, the predawn hours plus the time around sunrise are always my favorite time to shoot. Lava is really mesmerizing. It's like watching a campfire burning. The sizzling sound, the heat, the burning. It's so much fun.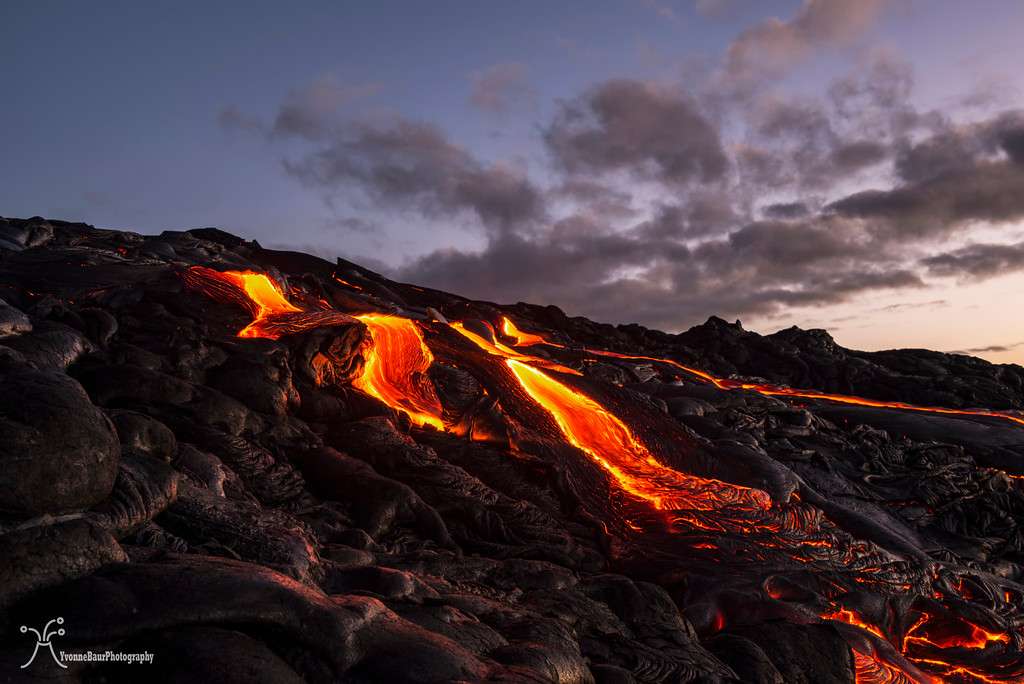 The best part of climbing up the Pali and to check out the flows, no one else is there. Barely anyone dares to climb up that steep hill. You usually have it all on your own. At least until 7:30am when the first tour helicopters show up. I love the peaceful time up there, just me and the lava. It's amazing, it's lavaly, it's hot and exciting.
a cooling lava toe with A'a lava to the right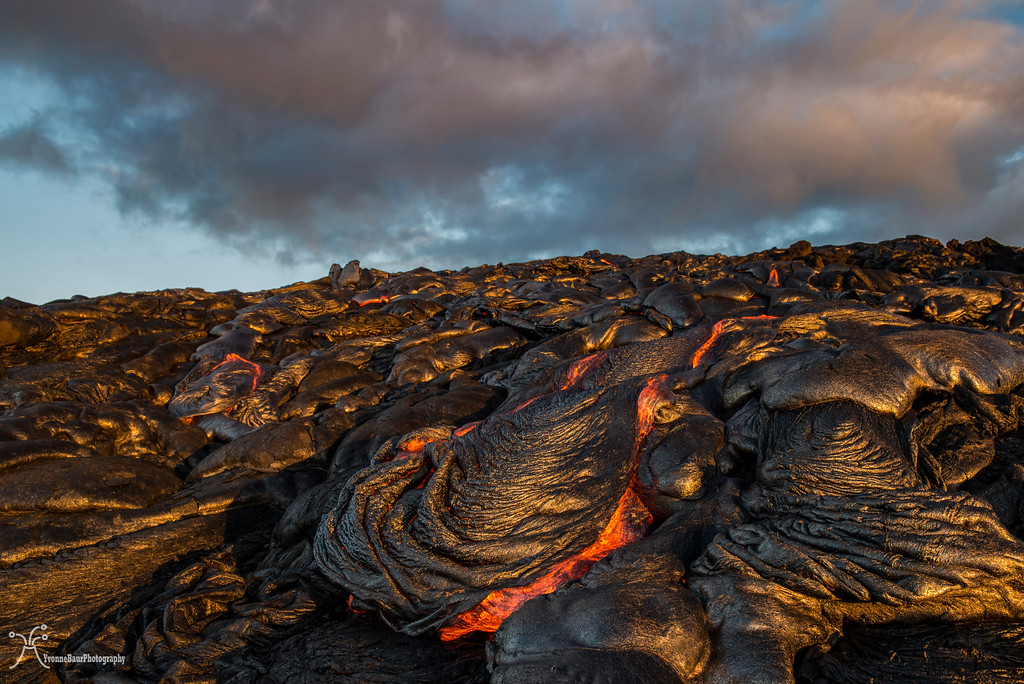 sun is up
I shot until the sun was up and then slowly packed my gear. It was a productive morning and this flow will soon move down the Pali. On the hike out the few clouds disappeared and it was getting hot pretty fast. The old black lava is an enormous solar field and heats up to about 95F each day with no shade anywhere along the way back.
up the cliff, it looks like down the cliff - everything is covered by old lava
watch your step: brittle, air-filled folds of old lava everywhere on top of the Pali
The steep climb down was not easy. Smooth pahoehoe lava changed quickly to A'a lava rubble and back. I was glad to have my thick gloves for protection. I walk down closer to the middle Kipuka.
A'a lava and pahoehoe lava change within a few feet, so watch your step
Kipuka in the middle of the old lava field
a tree mold and the former tree that once stood here. For sure watch your step
that's where you have to climb up and down, it continues for about a quarter of a mile like that
the coastal plains: 2.5 miles of black lava desert to the road
It is less steep and I can always check out the Papaya, Mango and Guava trees. Nothing ripe today so I just left and headed down to the flat coastal plains area. From there it was another 2.5 miles back to the road.
Today's trip was about 10 miles, all on old lava. No trails, just up and down, hills and rubble. All these trips are for sure the best workout you can get. About 9:15 am I was back at the car. Time to grab some breakfast and then take a nap.
Check out the video as well: