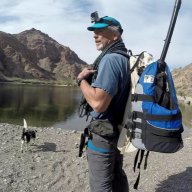 Joined

May 31, 2016
Messages

25
June 2019
I left Reno on my bike by about 10:30 am. Originally I had planned to ride directly from the house but Joannie was going to Reno anyway so I got a boost from her. I followed the Truckee Pyramid bike route as far as Verdi then cut off and headed up Henness Pass rd. I enjoyed a brief thunderstorm that first evening but it did nothing to tame the voracious mosquitoes which accompanied me throughout my journey.
I had my bike setup in 29+ mode which is my favorite for bikepacking. My bikepacking rig is a 2017 Salsa Mukluk fatbike that I bought used as a frame only. Because of the versatility of being able to run various wheel sizes from 26"x5" to 29"x3" (29+ mode) I really like the fatbike platform.
Overloaded. I could theme this adjective into virtually every bikepacking trip I've done. Coming from a mountaineering background I simply cannot conceive of resupplying on route. So while my clothing and gear is stripped and effective, (with a couple minor old age luxuries thrown in now days) I consistently overload with with food and especially water. I'm more used to bikepacking in dry deserts of the the west. Water was everywhere this trip and conceding that yes I always carry a filter system anyway I didn't
need
to be carrying 5-6 liters of water. I did learn to resupply my food along the way. But that only meant that instead of carrying too much food, I now carried
way
too much food!
But despite the heft of my fully loaded bike I made better than expected time on my route and was always ahead of schedule. All the climbs were easily manageable and descents were a joy. I passed through beautiful country that was more reminiscent of the North Cascades of Washington than of California on as much dirt as I could come up with in the short planning window I had for this trip. I never got any more storms than that first evening but a cold front came through several days later dropping the temperatures by 15 degrees. That was a nice blessing not only for cooler riding temps but helped keep the mozzies down when packing up in the mornings. On day 5 I cut a right on a forest road and intersected the Bizz Johnson Trail, an old abandoned railroad grade that has been converted to National Recreation trail and rode down to Susanville where my sweet obliging wife picked me up.
So get comfy, have a cold one, or hot one and enjoy some scenes from the saddle.