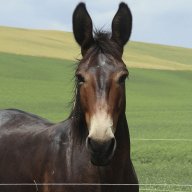 Joined

Jun 11, 2017
Messages

3,946
It really bothers me that Green River is going the way of Moab by trying to entice the UTV crowd. Moab's been overrun with them, and I even have friends talking about moving because of all the noise, though Moab is trying to deal with it (pretty much unsuccessfully).
For those of you who enjoy motor toys, let me say that I don't mind dirt bikes and ATVs if in small quantities and respectful. I spent 10 years exploring the countryside around Moab and Green RIver with my Yamaha four-stroke, which I finally ended up selling. It can be a great way to see the country, and I enjoy watching the dirt bikers fly through the air at the track at the Price fairgrounds. But the UTV crowd seems different - they ride in huge mobs and well...I could go on and on, having witnessed a lot of damage from them at the Sand Flats when volunteering there for a couple of years.
I'm starting to feel like an oldtimer bemoaning all the changes.
By Robin Hunt Over the weekend, hotel parking lots, gas stations and roads were filled with UTVs for the UTV Utah Watermelon Crawl. Machines traveled from throughout the state to ride trails in and around Green River. "We are so happy to see the UTV group having such a great time in Green River...
etvnews.com
Last edited: