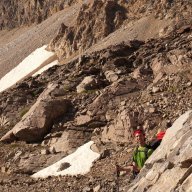 Joined

Aug 26, 2014
Messages

112
Hi all,
I'm planning a trip out to Idaho for this summer. We are planning to go to the Sawtooths for about 6 nights. We aren't yet set on a route, but we have a vague idea of what we'd like to do.
One idea is a loop in the North starting from Grandjean or Iron Creek TH. We would go from Thomson Peak into the Stephens Lakes area, then to the Warbonnet area and back north via Baron Creek or Goat Creek. Plan to summit a few peaks along the way.
Another possibility is to do a North South traverse using a shuttle system. We would start in the north and travel down to Petit Lake. I've read many of Ben's reviews on here and he speaks very fondly of the Southern lake systems. Also, I would be using Bob's report as a guide to the beginning of this trip:
http://backcountrypost.com/threads/sawtooth-wilderness-idaho-north-to-south-traverse.1933/
Thoughts on these two routes? Are they realistic for 6 days?
I have a couple questions for those familiar with the area:
Has anyone used a shuttle in this area?
How hard is the section between Thomson peak and Stephens Lakes?
There is a basin South of Mt. Reagan/Sawtooth Lake. Is it possible to get up Thomson from this basin? Maybe from one of those lakes in the basin?
Here is a map of the area. Disregard the route lines, they are just to get rough estimates on some distances.
http://caltopo.com/m/6L71
Last edited: