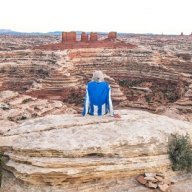 Joined

May 18, 2012
Messages

291
Apologies Jack for reposting this beautiful photo from a Backcountry member but it was what inspired me to return to the Sawtooths and head west into the mountains away from the sole paved road between Ketchum and Stanley. The Winds aren't on the radar of most UK tourists but Cirque of the Towers had been on my list since reading the Lonely Planet's hikes in the US book - just the name couldn't be more enticing!
Once I also saw a photo of Island Lake, on here I think, and my partner said she wanted to see Yellowstone a deal was struck!
For the 2 hikes I met up with four hikers I'd only made contact with through the internet, Deb, Kel, Zul, and Nancy, all of whom were great company and hopefully we will get to hike again together.
First stop was the view from Photographers Point.
The sudden high elevation, hot sun, and a backpack with items to cater for all scenarios and hazards, including a heavy bear canister, made me feel ia little like Cheryl Strayed from the book Wild. Despite feeling fit, perhaps for the first time ever I was tiring and slowing by mile 10 and was quite pleased when my new friends opted to camp at Seneca Lake rather than press on to Island Lake. As usual late light made for good photos.
But the real gasps came with our first glimpse of Island Lake.
We headed onwards past each of the lakes of Titcomb Basin
before unfortunately taking the wrong ridge up to Mistake Lake and aptly mistaking a smaller nearby lake for our target.
On the way back we met this dog "porter", who was a very attentive model
After a day's rest in the Tetons, where a forest fire, made for very orange light
it was time for the Cirque hike where we had our own canine extra companion/Nancy's sleeping bag's hot water bottle.
After pleasant sunshine for the hike to Jackass Pass
the weather rapidly changed to grey clouds, rain, thunder, hail and snow before an hour later clearer skies allowed us to make an enjoyable sunset circuit of Lonesome Lake.
Unable to sleep I crawled out my tent, 10 minutes above Lonesome Lake's outlet, and headed for the shore to catch the first rays hitting the towers. Within minutes in the dark I was relieved to discover a munching noise and sihouette 40ft ahead of me on my trail route was a moose cow. I took a wide detour and was later told by nearby campers the bull had been sitting in the grass near the cow.
Sunrise didnt disappoint
before packing up and the hike back.
Someone was struggling with the pace
Then it was recovery time with 2 days in Yellowstone where two year old Dylan did not appreciate geysers showering him in water
Until getting soaked he quite like geysers
Just made the canyon in time before dark
For the Sawtooths hike I'd arranged to meet new hikers through a meetup site but the dropouts and new names changed so frequently I didn't know who might show. In the event it was just Lucy. But I was also pleasantly surprised to see the familiar face of Byron, who had declared himself doubtful because of work, but had come all the way from Denver.
We decided to do the loop antiIclockwise - probably the right decision as the scenery gets better and better and the least interesting early elevation gains fflew by as we caught up and talked.
My legs were still a bit weary for speedy Byron after 4 hard days in the Winds - well I also had the heavier pack with the weighty camera gear for these photos! - but fortunately Byron had put himself through an epic difficult mountain bike ride the day before.
The views started to impress as we approached Toxawy Lake.
We pitched tents there and Byron and I walked round the head of the lake and up cliffs on the other side. Lucy ater told us about two loud campers on the other side of the lake - turned out it was us.
Unfortunately my tent insomnia meant I was first up again
The climb to the pass wasn't too tough with a nice like half way
and our first view over the south side drew a real "wow" moment - that spectacular view down to Twin Lakes.
We continued to much photographed Alice Lake
and El Capitain
before heading down
to Pettit taking in distant views of the White Clouds Wilderness