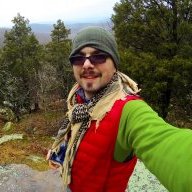 Joined

Jan 21, 2012
Messages

202
Went on this hike with some folks from a group I'm a part of. I must confess, I'd never heard of the area before and I didn't do a lot of research, so my info on this place is very limited.
We did around 21 miles total in three days. Elevation change was about 700 feet. They'd had record rains before we arrived and we were rained on for most of our "middle' day. That not with standing it was a really fun trip.
Waterfalls were spectacular. Creek crossing were challenging to say the least. At one point we left the trail and found our way up one of the sides to avoid a creek crossing.
Sorry it's not much of a write up. I'm still a bit tired, but I hope you enjoy the photos.
Pictures in no particular order.