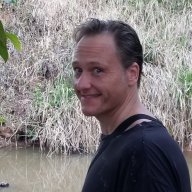 Joined

May 5, 2019
Messages

4
Hello BCP,
I thought my first post would be a trip report from my very first backpacking trip, which took place in August 2019. I am 47 years old, and my wife and I decided to try backpacking for the first time this summer. We've done some car camping in the past, but the thought of venturing further into the woods than my cooler of beer could follow seemed too frightening. After my wife and I day hiked several parks in Utah, we had a great time and wanted to build on our outdoorsiness.
After spending far more than we expected for gear, we thought we had what we needed. We decided to do a two night trip to South Cumberland State Park in Tennessee, in the Savage Gulf section. We thought this was a good option because it was in driving distance from our home in Atlanta, and could give us a 21 mile loop. We hiked the eastern part of this area, but there is quite a bit more to it, just off the screen to your left.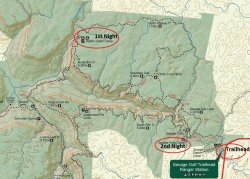 This picture makes it easier to see the route we took.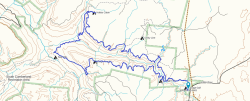 The first leg of the journey was roughly 8 miles to the Hobbs Cabin Camp. For the most part, we travelled along the north rim of the gorge. It was heavily wooded, but there were several places to look over the gorge, such as this.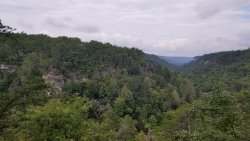 I heard a strange noise that took me a moment to figure out. Then I saw it - Holy smokes, it was a rattlesnake! I had never heard one before. I always expected them to sound like a baby rattle, like in the cartoons. The frequency of the rattle was much faster, more like an angry cicada. Luckily it was far enough off the trail where it wasn't coming at us. We gave it a wide berth, looked down, and saw another rattlesnake inside a rotten log right next to the trail. I kept moving, and a couple minutes later saw this guy.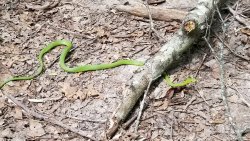 He was a lot more agreeable than the rattlesnakes, and really loved posing for us. After this snake-a-rama, we didn't see any more for the rest of the trip.
The Hobbs Cabin Camp had 8 private campsites available, and one rustic cabin. Being a backcountry camp with no running water, the area used a spring behind the cabin as a water source. It was pretty low and full of sediment, but we were able to filter enough for our needs. There were two pit toilets.
Here is our spot, site # 5.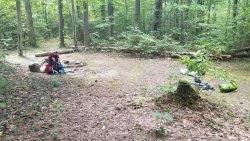 It rained that night and in the morning. It took us a long time to get packed up and moving, and the rain stopped by the time we were on the trail. The first part of day 2 went by the unassuming map name of "Connector Trail". It should have been called "Rocky Slope Funland for Breaking Ankles".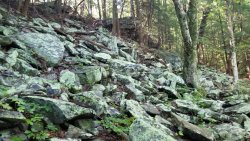 Here is the beginning of the 6.7 mile Connector Trail. I came down this thing, and I can't find the trail in this picture. The goal was to hike 11 miles today to the next camp site, and this section slowed us down pretty good. Luckily there were plenty of blazes to follow. Many of these slabs were slick, and would wobble. Good thing we each had a full set of trekking poles...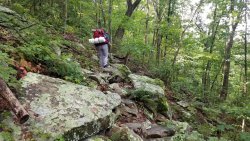 ...until 2 minutes after this photo when one pole broke in a scary spill. No injuries to worry about, and we kept chugging along.
Leaving the Connector Trail behind, we soon started going up the other side of the gorge, on the Stagecoach Road Trail. This turned out to be a pretty spot to have lunch.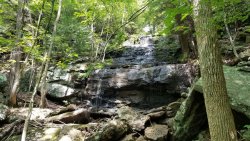 We make it to the Savage Falls Camp about an hour before nightfall. We had enough time to make camp and have a quick dinner. We had to conserve water because we didn't have time to make it to the falls to filter more. This camp had 8 spots as well. However, these were not as private as Hobbs Cabin. Here is our spot, site # 7.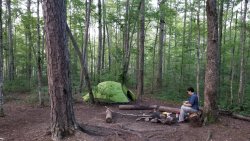 Here is Savage Falls, where we got our water in the morning.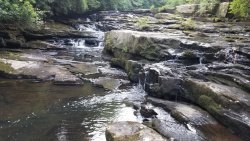 At this point we were only two miles from the trailhead, so we hiked on out and went back to civilization.
As a first backpacking trip, we thought it was a great success, and had a lot of fun. We liked that we could do a multi-day loop, as we did not want to mess with getting a shuttle. Tennessee's State Park Reservation system is pretty nice once you figure it out. We were able to reserve our specific backcountry campsites several weeks in advance, and they even had some preview pics and information, such as whether the site was level.
We also thought of this as a good shakedown trip, in preparation for longer section hike on the AT.
---Sweeg