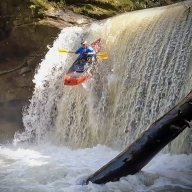 Joined

May 3, 2013
Messages

548
Waterfalls. Lots and lots of waterfalls.
I visited this area last fall during a dry period and didn't see a single drop of water anywhere. We've had a very wet spring this year, so after a few inches of rain and a short window of nice weather I drove the 5 hours south from Lexington to backpack the Big Creek Gulf/Big Creek Rim Loop. Overall about 12 miles of hiking with side hikes, 4 waterfalls, scenic views and very few people...weekdays are the ticket here, weekends can get very crowded.
I booked my backcountry camp for the Alum Gap campground, started at the Stone Door and headed down to Ranger Falls first. Last year a completely dry creek crossing, and dry waterfall. It drops directly into a sinkhole, so there's no outflow.
Over waist deep, shrinkage factor of 9 out of 10. Worth it though, Ranger Falls is a beauty.
Big Creek. Rarely flowing, most of the water disappears into sinkholes. Karst country.
Trillium
Fly Poison
Greeter Falls
Greeter Falls and the sketchy staircase
Greeter Falls
Upper Greeter Falls
Laurel Falls
Evidence of past cultures...
I see you spring...finally some green! Stone Door Overlook
Area trail map...
https://tnstateparks.com/parks/about/south-cumberland
Last edited: