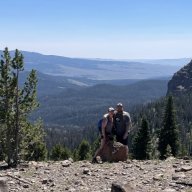 Joined

May 26, 2019
Messages

75
So with my big Teton Wilderness Trip coming up in 4 weeks the wife really wants us to carry a sat phone or an Inreach device. I've assured her we'll be ok, but honestly bringing one won't hurt anything and if it makes the trip more enjoyable for her then it's a win anyway.

In any event, I was hoping for some input from you guys and before we go any further I'm fully aware that both have costly plans to purchase as well. To me a satellite phone is convenient in that I can simply make a call if needed and speak to someone right away, I don't need the gps on the Inreach as I'll be using my phone with topomaps + anyway so the Inreach mini would be fine, but I've read the Inreach reviews on REI and they mostly sound terrible. The Inreach according to reviews seems absolutely ridiculous to use and figure out?

Any feedback on this would be super helpful, thanks guys!!