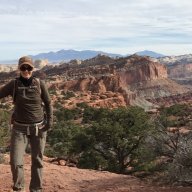 Joined

Sep 7, 2014
Messages

122
Some
video snippets
on the Wayne County sheriff's dept. page of a rescue from Sandthrax Canyon earlier this week. (Just linked one video but there are several, you have to scroll a bit to see them all.) Also a
brief news segment in which one of the rescued hikers talks about it.
It sounds like they maybe thought they were in Leprechaun and somehow got themselves into Sandthrax instead? Not sure. Guess they were confused. It probably doesn't help that news outlets kept saying Sandthrax is near Boulder. Good thing at least the SAR team knew where to go!
No one was seriously hurt from what I heard, though
they did get taken to the hospital to get checked out.
I'm kind of amazed they got in as far as they did without realizing they were in way over their skill/preparation level.