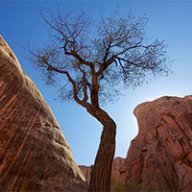 Joined

Aug 9, 2007
Messages

12,939
It's been a long, cold, stinky winter season in the Salt Lake valley, so it was with great pleasure that I was able to sneak south again for an early reprieve from the seemingly never-ending winter at home. Nikita and I met up with
pixie1339
early Saturday morning and headed south, connecting with
markj
and
Britnee
along the way.
Our target was the area southwest of Leeds; an area I'd been last October to do Yankee Doodle Canyon, but this time we'd be taking it easy and doing some hiking and a laid back night of camping. And maybe we'd slip in a technical canyon on the way out.
When we arrived,
Miss Buffalo
and
Sandman
were patiently waiting for us at the trailhead for our hike for the day. It was still early in the day and a bit brisk, but it felt amazing compared to the colder temperatures in the north.
After a couple of miles, we hit the slickrock we were seeking and found a way down through the unusually twisted and colorful rock.
Nikita was with on this trip and she was hiking like she was 5 years old again. She is actually about 11 though, so it was awesome to see her so full of energy. But sadly, her brain was thinking younger than her body. Towards the end of the slope below, she decided to try to just head straight down and she slipped, sliding on her side about 20 feet to the bottom. She popped right up but was holding one leg off the ground. Oh crap. It's the same leg that she had TPLO surgery on, basically a knee replacement that costs $3-$4k! I immediately realized I'd be packing her out the 2+ miles it took to get here and probably heading right back to Salt Lake. Ugh.
She limped down to this pothole and sat down and got a good drink, and then amazingly, she started putting weight back on the bad leg. We stopped and waited there for a while and sure enough, she walked it off!
Back on her feet! Let's explore!
Yvonne and Nikita for a little scale.
Yvonne taking in the view
After a bit of walking around, Nikita was really feeling saucy again. I was truly amazed at how energetic and happy she was, even after her fall. I'm starting to think her 5-day doggy vacation to Dog Town Kennel while we were in Vegas last week really did her some good (exercise & playing with 30 dogs all day).
I walked down some steep slabs to see how far this drainage went before getting too steep. I learned my lesson and made Nikita wait at the top for me.
The skies were just gorgeous that morning.
See the little spec way up on that high point? That's Mark.
We climbed up out of that first valley of sandstone and headed towards the next. The climb out really slowed Nikita down and by the time we got to the rim of the next, she was struggling a bit and possibly overheating. I decided to just sit at the top with her and count my blessings that I probably wasn't going to have to carry her back to the truck. Meanwhile most everyone else went down there and explored this area which was much larger than the first.
While we were sitting there, I turned on my phone and got a text from
Udink
. Apparently he had just walked past my truck. I quickly realized that we had just missed him at the first valley. I had seen some people walk up to the rim just as we walked out. Not a few minutes after realizing that, his very recognizable pup Torrey came running up to us and soon after
Udink
,
Chris Mosbacker
and a whole bunch of other people. Great running into you guys out there!
When we got back to the vehicles, it was late afternoon. We debated on going over and doing Yankee Doodle right then, but with only 3+ hours of light left, it seemed like not the best idea since most of the group was new to canyoneering. So we cruised over to a sweet campsite on the rim of a deep canyon that
Miss Buffalo
and
Sandman
had snagged the night before. Sweet aside from the mass amounts of broken glass at least. Seriously, who just throws beer bottles!?!
I slept out on the tarp with Nikita that night. It was so good to just roll over again and see the stars again. But in the morning, thick clouds had moved in. So thick that we were seriously debating whether to even do the canyon. Not so much because of the flood risk, we knew the forecast was a very low chance, but rather because the thought of thigh to waist deep water with low temps and no sun sounded not so great! But luckily, the clouds parted and started cooking off as we broke down camp. By the time we were at the trailhead, it was a gorgeous, sunny day.
Mark on the big rap.
Britnee
Yvonne stemming over a pool
Damn you autofocus. Damn you all to hell.
We got through Yankee Doodle in a little over 2 hours. It was drier than I had experienced before and much drier than photos I'd seen from just a couple weeks earlier. Calf deep at the very most, if that. And to make me even happier, my bum knee that had only gotten my a couple miles two weeks earlier, had now not only gotten me through a 5-6 mile hike the day before, but I was able to do almost all of the down-climbs in Yankee Doodle without my knee interfering. Game on!
[parsehtml]
<div style="display:none;">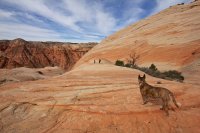 </div>
[/parsehtml]