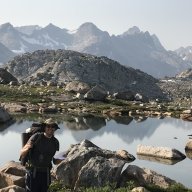 Joined

Mar 1, 2015
Messages

465
Hello, I recently took my new (to me) silnylon duomid on a short trip in the desert, and ran into the following problem:

1. I lay out my duomid on the ground to get it all spread out even, with the corners at right angles (making a rectangular shape) as the instructions say to do.

2. The sand on the ground stuck to the entire bottom surface of the duomid

3. When I raised the shelter, the sand was still stuck to the entire bottom surface

4. Every time I would touch a wall of the shelter, or adjust things, or if the wind would blow, etc., sand would fall from the inside surface of the shelter onto me. ICK!

Does anyone have any tips as to how to avoid this? Do you need to bring a huge groundcloth if you plan on camping on sand? I was able to use rocks as anchors easily enough so I didn't mind setting the shelter up in loose sand, but the sand falling from the ceiling was a real pain to deal with.

Thanks in advance for any tips!