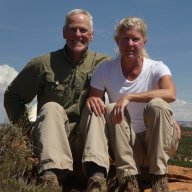 Joined

Dec 7, 2017
Messages

264
February 26, 2019:
Finally (!), warmer weather without precip was forecasted for southeastern Utah. So, Blake and I reorganized our plans, packed up the FJ and headed across the state line. We took the scenic route (Utah 128) to Moab and enjoyed seeing white "skirts" of snow on the deep red rock formations.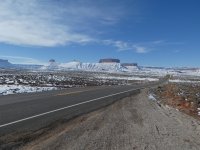 Then we busted down 191 to Bluff. Our first stop was the Sand Island petroglyphs. We marveled at how high on the wall many of the figures were. Here are a few of our favorites: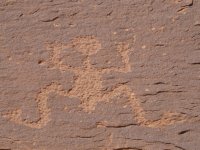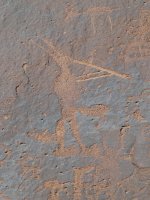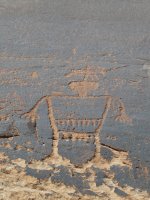 From there we moved on to conduct some recon on the approach to Hobbs Wash Ruin. For some reason, we didn't feel compelled at that particular moment to make the scramble down to the bottom of the wash. I guess we were being a little lazy. Another day!
We then set our sites on the Sand Dune petroglyphs. The hike up the dune wasn't as much of a slog as I thought it might be (probably because the snowmelt compacted the sand) and we were quickly at our destination. I hadn't had much of a chance to study-up on the site as I'd only learned about them the day before, so, unfortunately, we missed most of the panels. No biggie, the site's easy to get to and can be revisited on a future trip. Here's a sample of what we did manage to see: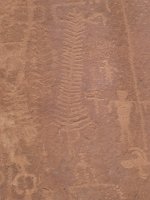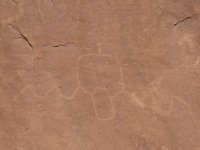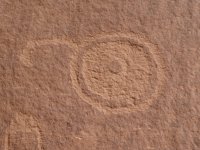 The last "stop" for the day was to check out a "Ruin Spring" that I'd seen on a topo map of the Blanding area. I figured there's probably a ruin there and not just a spring, but I had no other intel. Driving around Blanding, however, turned out to be
completely
different from what we'd encountered earlier in the day near Bluff. The melting snow had turned the dirt roads into a greasy, muddy mess. When we slid nearly sideways we threw in the towel and carefully got ourselves back to pavement. After all, we had our hearts set on pizza from the Southway mini-mart for that evening and didn't want to risk getting stuck!
All in all, it was a nice, easy day with plenty of sun.