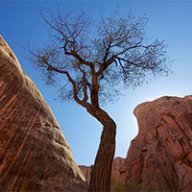 Joined

Aug 9, 2007
Messages

12,918
Here is the first of at least a couple of trip reports from the BackcountryPost gathering over this past weekend. If you were a part of this trip, post a new trip report and add a link to it in this thread. Or if you'd rather just post a few photos, feel free to piggy back it onto this.
As most of you know from reading
the thread in the Meet Up section
, we originally planned to do Spring Canyon in Capitol Reef but ended up doing Sand Creek instead.
I met up with
Tyler
and his crew on Friday afternoon and set off for the reef. We made good time and were rolling into Capitol Reef well before sunset so we decided to go check out the Fremont River where we would need to cross at the end of the trip. The river was brown and flowing quickly but didn't look like anything that could possibly be a problem. I've crossed much worse. And since we'd have a rope with us, we figured we could tie someone in and send them across to establish a handline for the rest. So with the uncertainty of the river crossing resolved, we headed back towards Meeks Mesa to find a place to camp.
Thanks to
Summit
, we found a nice spot and settled in. The sky looked promising for a good sunset so I climbed up onto a nearby ridge and waited but nothing came. This was shot looking east into Capitol Reef.
We spent the night around the fire. Later on,
markj
and
Britnee
arrived.
This shot was kind of a mistake. It was one of the first test shots I took with my new 20mm f/1.8 lens and I was not expecting it to capture so much light so quickly.
There was a beautiful sunrise the next morning but I was cold and tired and didn't want to get out of my bag to get my camera. So instead I just laid there on my tarp and admired it in between dozing off. Not a bad way to start the day.
We took a quick detour into Torrey for breakfast before heading into the Capitol Reef Visitor Center to get our permit. One piece of advice: do not bother eating breakfast at the Subway in Torrey. Hell, you might want to skip the Subway there all together. Just to give you an idea, I ordered a foot long breakfast sandwich but asked for no bun. The kid threw two cold eggs and some cold bacon in a plastic tray and tried to ring me up. I actually had to ask him to warm it up. After a little moaning and groaning, he put it in the microwave for 30 seconds and sent me on my way. Ugh.
After our crappy breakfast in Torrey, we made it over to the VC where we met up with
pixie1339
and went to pickup our permit. The rangers at the VC were quite typical giving us the standard "you're going to die if you cross the river" line of BS. We saw the Fremont, it was fine. But they insisted several times that even though it looks easy, we'll actually get swept away to our deaths or incur costly rescue expenses if we choose to proceed. Riiiiiiight.
That wasn't going to slow us down. But what did was the reports of absolutely no water in Spring Canyon, which we have since learned is also a load of Park Service lies. The more I hear and experience over-zealous park rangers trying to scare people out of doing hikes, the more I'm getting pissed off about it. I know that the NPS checks this website regularly so here's a piece of advice. If you keep crying wolf, no one is going to listen. Know what I mean? Don't over-exaggerate every tiny danger or people will just start completely ignoring you. Kind of like where I'm at right about now. I get that you see tons of unprepared tourists come through your doors but perhaps take a moment to evaluate the experience levels of the people you're talking to before telling them that a tiny stream is going to kill them. Okay. </soapbox> I love the NPS!
After our chat with the rangers, we all went outside and talked about options and decided to bag Spring Canyon and head for Escalante. We were first thinking the Escalante River Gorge but along the way decided that could be wet and cold and that we didn't really come prepared with the right footwear so we came up with a few other ideas. Along the way, we stopped at the Hills Hollows market/gas station in Boulder. I knew our very own
intuitive cat
ran the place so I wanted to say hello but also pick his brain about a potential hike into Sand Creek from the Boulder Mail trail.
After talking with intuitive cat and his friend (I forget her name!), we were sold on Sand Creek. We had direction to a nice campsite and some clues to some possible rock art. And we were just minutes away from the trailhead. Awesome.
The first mile or so of the Boulder Mail Trail crosses through the juniper forest southwest of the Boulder Air Strip before reaching the rim of Sand Creek Canyon. From there, it is a beautiful and dramatic hike down through seemingly endless layers of white, yellow, gold and brown slickrock.
As we neared the point where the BMT crosses Sand Creek, we diverted and started heading in another direction that is far less travelled.
The wash that we would eventually call home for the night.
The spring that supplied us with cold, clear and delicious water.
Sand Creek just below our campsite. It was pretty clear but running reasonably quick and carried a bit of silt. This photo makes it look brown but it wasn't at all.
We decided to camp in the wash near the spring. There was another good site up on a hill nearby but it was pretty small for how many of us there were. After picking our spot, Tyler and I went for a hike further down the canyon to make sure there wasn't anything amazing we were missing. We did a big loop about a mile and a half long that took us through several side drainages, back down to Sand Creek and then up to this high point above the creek and our camp. Sand Creek is in the left half of this photo and the wash we camped in is on the right.
Russ on top of a nearby high point.
After the hike with Tyler. We went back to camp and let everyone know that we were definitely staying there. We all got setup and then Mark, Britnee, Lisa and I went for a hike the other direction to explore some side canyons.
After exploring the lower sections, we finally made out way up to these two side canyons. I kind of took the long high loop around from this side while the others came in from far across the other side in this photo.
Beautiful scenery up on the slickrock bench I was on.
Nice light high in one of the side canyons.
After a couple of miles of exploring, we wandered back to camp, hungry and thirsty. I had a little mishap in camp and for a while, I thought I had destroyed my new 5d MkII. It was a tough pill to swallow for about an hour until I finally figured out what was wrong with it and fixed the problem. Then lucky for me, about 10 minutes later, we were treated to an impressive sunset.
And even more lucky for me. The clouds that created the beautiful sunset, largely cleared out and I got to shoot some stars too!
The next morning we packed up and made our way back up to the air strip.
But we had to stop and take a group poto. From left,
markj
,
Britnee
,
pixie1339
,
Tyler
, Caiden, Russ and
ibenick
. I was running to get into the frame in time for the shot.
I took some shots for the others on the way up. I will PM the large resolution versions of all of these to all of you that went on the trip.
Mark and Britnee hiking out through the last section of the trail.
This was such a great trip and it was so fun to meet so many of you and get out and play together. I'm almost glad that we didn't do Spring Canyon because I never really considered Sand Creek a stand along destination before now. I've always just hiked through it on the way to Death Hollow. But now I think I'll have to check it out again and do more exploring. It's such a vast and intricate canyon system. I could spend a few days just exploring the nooks and crannies.
Featured image for slideshow: