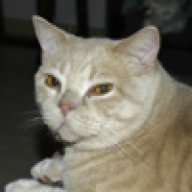 Joined

May 29, 2013
Messages

136
Heading back from Lone Tree Wedge we decide to stroll through the area for another two hours or so. At first we were heading to Mussentuchit Flat and going South to Cedar Mountain. Years ago we visited some point on the south end above Chimney Canyon where a trail starts down into the Chute.
Our maps (we use electronic topomaps on a notebook) showed a jeep Trail maybe 5 Miles long north of East Cedar Mountain. It ends on top of a cliff line and we thought there might be some views. Chimney Canyon Wash is more than 1,200 Feet below.
The area is called Slaughter Slopes and it is said that the name sticked to it after a large hunt for wild horses in the 1930ies.
Lets start with some pictures from the Mussentuchtit Flat.
Hebes Mountain and the Upper Willow Spring Wash Badlands
Its easy to see that the strata is rising eastward to the middle of the Swell, but the grade is much less than on its eastern side - the reef! Hebes Mountain is capped by a resistant sill of cooled down volcanic material. More volcanic features can be seen around Cedar Mountain.
Grey in Grey - rocks and sky
Mussentuchit sand dune
East Cedar Mountain
More sills and a volcanic neck at West Cedar Mountain
Debris from the sill
East Cedar Mountain again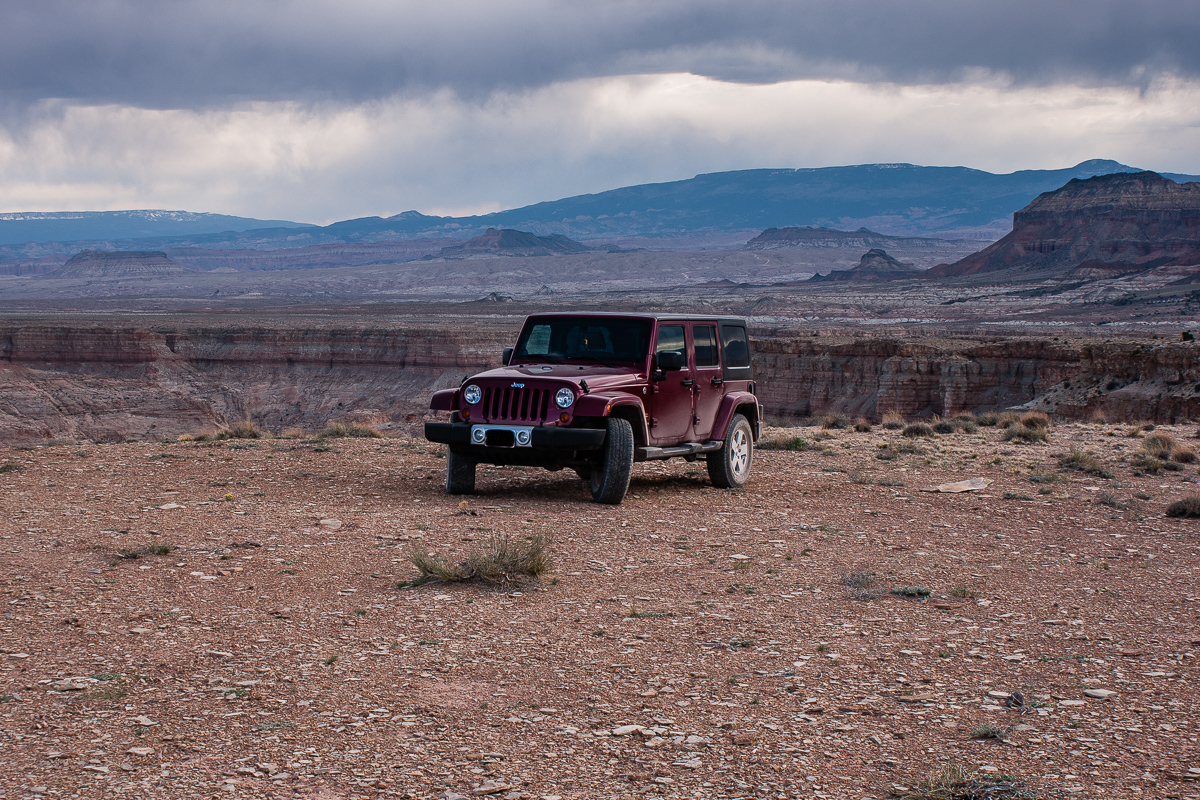 On a view point high above Chimney Canyon
Coordinates: 12S 0496420 4275710
Chimney Canyon
Our maps read "Johns Hole"
The trail runs along the rim in a northeastern direction. The maps don't show it anymore but it is still not too difficult to follow. We haven't explored it the whole lenght. (I guess it ends above the headwater of Ireland Mesa Canyon.)
After a little bit more than a mile we decided to stop, take some more pictures and later return to I 70 and Moab. It is 6:30 pm.
Tomsich Butte and Hondu (Hondoo?) Country
Using a "long" lens shows the top of Hondu Arch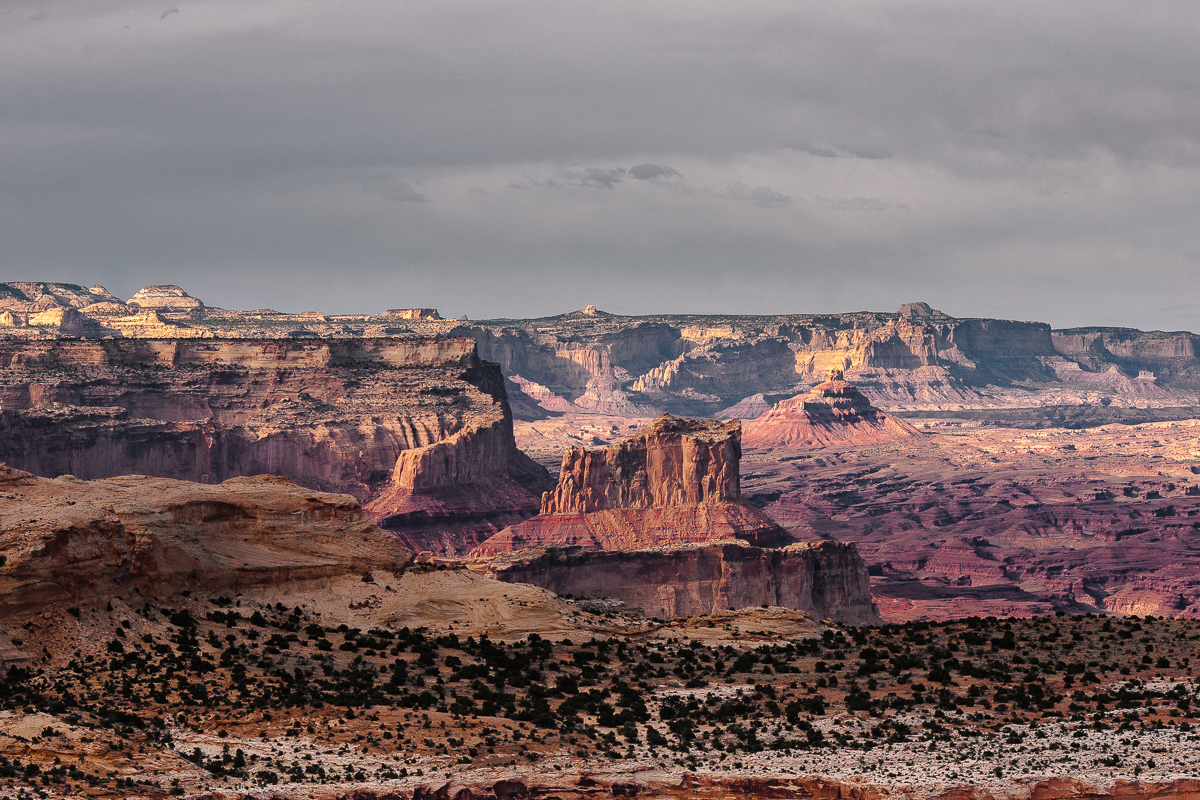 Suddenly some sunshine in the evening
Looking back to Chimney Canyon
On the right the rim the trail follows to the northeast.
Muddy Creek Canyon, Factory Butte and the Hernry Mountains in an distance
Muddy Creek Gorge through the Reef
The dumps from the infamous Delta (Hidden Splendor) Mine can be seen. Years ago we travelled the gorge several times by car (SUV).
Zoomed in: Black Beauty Factory Butte
Red Dot below the rim
Flowers we found:
???
Newberry's Twinpod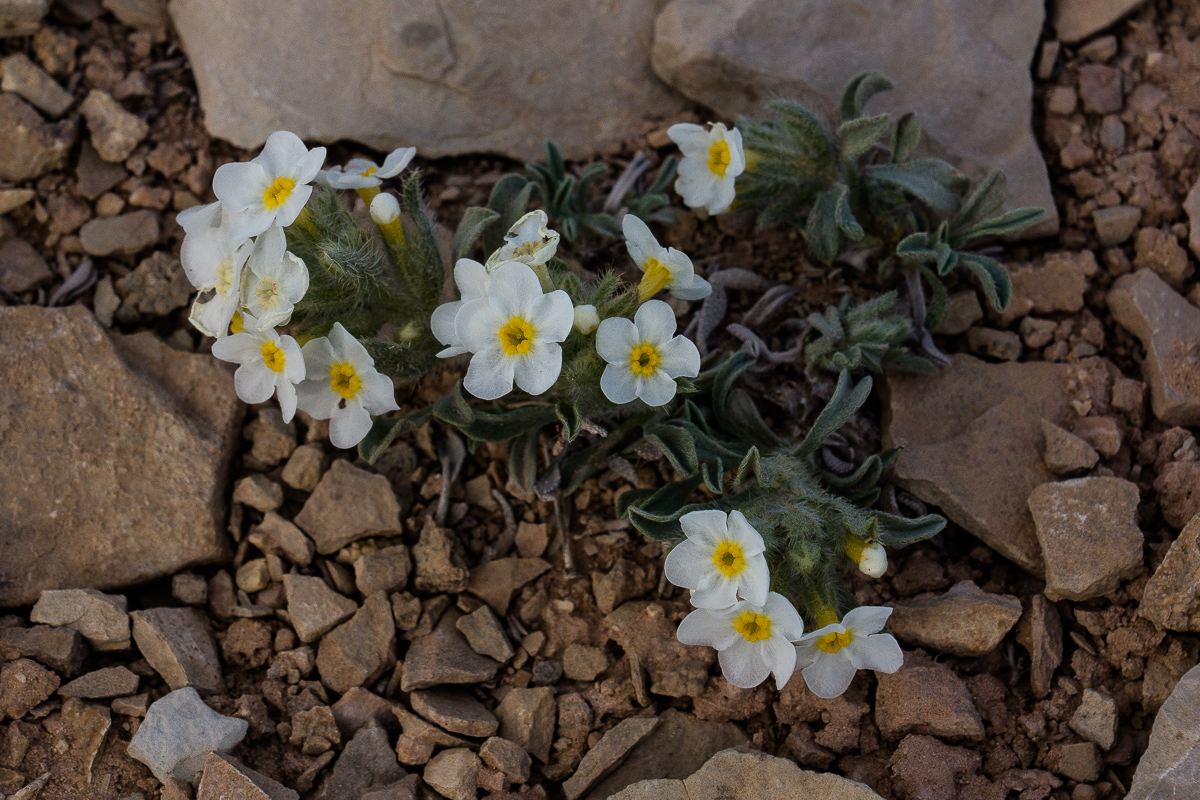 Phlox?
Showy Stoneseed(?)
A last view in evening light over Chimney Canyon
We returned to the Interstate via Salt Creek Road entering the freeway at exit 108.
Featured image for home page: