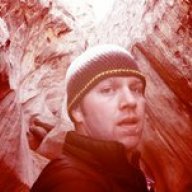 ^^^^^^^^^^^^^^^^^^^^^^^^^^^^^^^^^^^^
Joined

Jan 18, 2012
Messages

464
Day 1
Cabin fever had been set in for a LONG time, especially for Alene. I was fortunate enough to be able to slip out to some desert hiking in a January trip to St George back in January, so I had had a tiny fix.
Since we are having an unusually cold winter, we decided to get a hotel in Green River, UT. DON'T EVER STAY AT THE RAMADA LIMITED!! The hotel was horrible. The first room they gave us had not been cleaned (towels and bedding still on the floor) and the "continental breakfast" consisted of sour milk, peeled hardboiled eggs (I personally like to peel my own), and stale bread. We've stayed at the Comfort Inn before, which I don't remember much, but I'm sure is much better than this place. Our next try will likely be the Holiday Inn, but I'm hoping to limit our hotel stays while visiting the desert to once a year (late winter).
Back to the trip. We left on Friday morning and headed straight for Goblin Valley. We were really worried about the recent storms and even a week ago when I passed by the swell while on a work trip, I had seen the area COVERED in snow, so I was worried. We had had dry weather down there for the week leading up to us going down there, so we were optimistic. We scored, with the Reef having hardly any snow (only in patches) and Goblin Valley looking the same. Hardly any mud too. When we went there last May it was
rain-soaked and miserable
, so this was a much better experience. Plus, it was Bailey's first time being in the Swell and being able to walk. She had a great time up until when it started to get a bit cold.
(Click on any picture and "all sizes" to see a larger version)
Kids enjoying a movie on our way down
Bailey and I walking down into Goblin Valley
Bailey excited to be out of the car and walking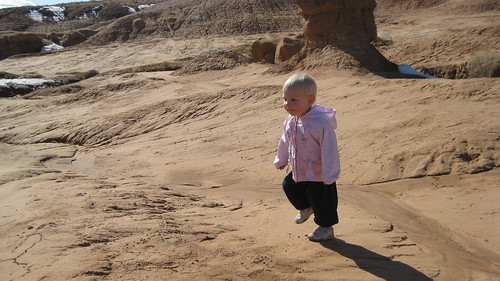 This Goblin is ready to die
The Goblin Valley creek was running
Bailey had to get her toes muddy
Caiden in meditation
Practicing my Crane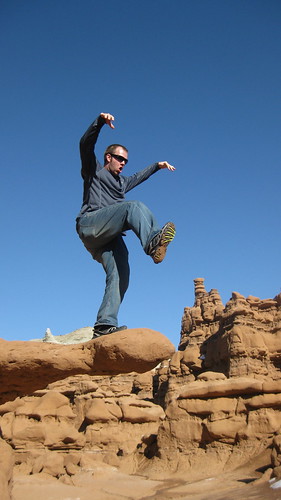 Looking down at the Henry Mountains
My lover and I in the valley of Goblins
As it got colder we opted to run to the Temple Mountain junction and run around on the reef for a bit. It lasted about 5 minutes when Bailey could not stand being out anymore. We headed back to Green River for bad food and bad beds.
Day 2
Day 2 was our introduction to Ramada Limited's "Continental breakfast", which left us wanting for more. We met up with our friends
James
, his lady-friend Amber, and the
Beatty family
, ate what we could tolerate of our breakfast, then headed immediately for Black Dragon Canyon. The Beatty's had never been to the Swell before so we opted to give them the initation of quick and easy places to see for your first time. While at Black Dragon Canyon I encouraged them to all hike up above to see the cave located at the top of the rock fall.
Alene, Bailey, and Beatty Family hiking in the canyon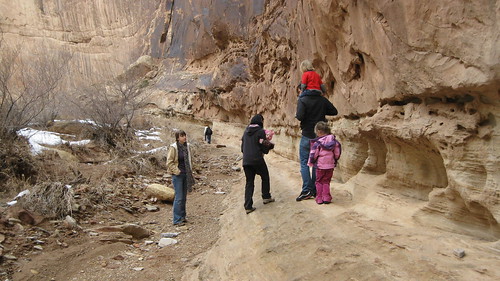 Bailey and her new boots (they didn't stay on very long)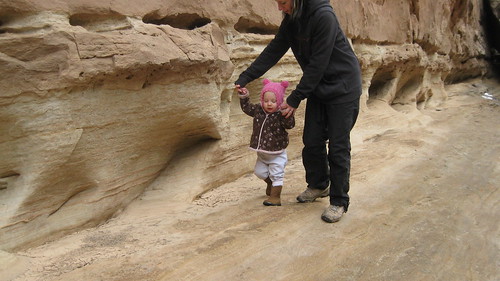 Up at the pictograph panel
Hanging out with Bailey while mommy explored the cave (bailey wasn't too happy about that)
Bailey back with her mommy
We then headed down to Goblin Valley to do some hiking. Of course Bailey dozed off pretty quickly
Within a few minutes of arriving the daredevil Matt tried to impress his son by jumping off a rock and did something bad to his calf, forcing him to become the walking wounded
Caiden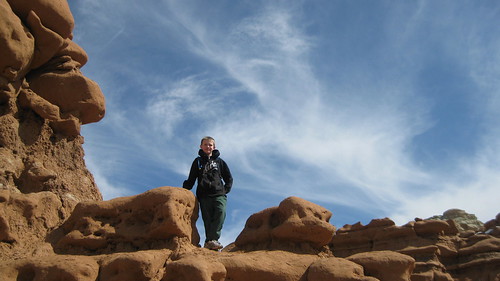 A dead Goblin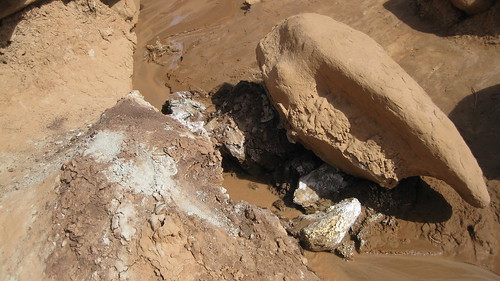 Caiden at one of the small Goblin caves
Family picture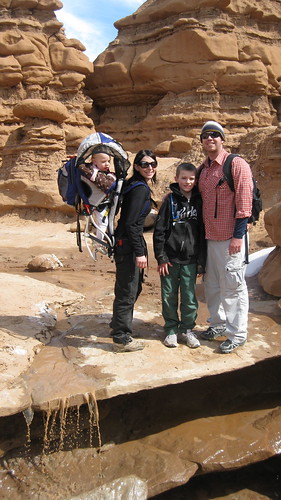 Alene's crane
We then headed off to Little Wild Horse canyon, but forgot our camera, so I'll defer to the Beatty's and James for their photos soon. The canyon was nice to hike in (hardly any snow, as opposed to the snow that
Dennis Udink experienced a couple of weeks before
) and we turned around in the 2nd set of narrows where the shallow pools exist. Passable by adults, but hard for kids.
After that we headed to our favorite campsite in North Temple wash, had a campfire and ate dinner. When we left, we said goodbye to the Beatty's as they had to be somewhere early sunday morning. We headed back to the wonderful Ramada Limited.
Day 3
Our last day there had us trying to figure out what to do. I stupidly suggested going up to the Head of Sinbad area to see Dutchman arch and some of the pictograph panels. Stupidly I hadn't figured that the "swell" was significantly higher in elevation than we were down at the bottom of the reef. There was a TON of snow and the road getting to Dutchman Arch area is 5-6 miles of occasionally graded dirt (and at this point, covered in snow). We decided to give it a try and amazingly we were doing pretty good. James followed in Amber's saturn, which did have studded tires. We got all the way to the dutchman arch turn-off and found the snow about 3' deep, so we decided to push on to the Swasey Cabin (which we had never been to).
The reef looked awesome covered in clouds at Spotted Wolf
The snow covered road at Page Flat
This is what ended up stopping us about a mile (or less) short of Swasey's Cabin (which was to the right of those cliffs ahead)
We opted to hike into it
Getting close to the cabin
In the cabin
Looking at Sinbad country from the cabin
Caiden and I stopping for a picture break
The drive back was the scarriest moment I've ever had in a car. By the afternoon the sun had melted a lot of the snow and those dirt roads turned to mudd. Our car was ALL OVER THE PLACE, but we made it out.
All in all a great trip and I can't wait to come back to this place (hopefully at the end of this month). I can never get bored here.