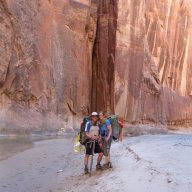 Joined

Dec 5, 2017
Messages

973
I know a lot of you are very experienced in the Needles, and I've read lots of reports here and elsewhere. I'm seeking advice for a possible spring break trip in 2023. I know that water will be dependent on winter conditions and we won't know that until later, but I'll need to put in for a permit on November 10 and will just have to hope for decent snow this winter. Obviously we'll have to shift gears if that's not the case. A few notes:

1) We'd like to do a backpacking trip longer than 3 nights. It will be roughly April 7-14.

2) We're happy to hike for many hours a day, but we're slow (well, I'm slow) and I'm not strong enough to carry more than 2 gallons of water at a time. (That may be pushing it.)

3) We know we'll need bear canisters and wag bags, and we're ok with that.

4) I realize we might not get these permits, but in general, does this seem feasible? Or does it seem like way too much to try?
Day 1 - Shuttle to Cathedral Butte and start down Salt Creek - camp SC1 or 2
Day 2 - camp SC4 (or 3 if necessary)
Day 3 - camp Salt/Horse open zone
Day 4 - hike to Squaw Flat TH, go to car there, drink a lot of water, and refill all our bladders - then head out Big Spring and camp BS1 (or 2 if necessary)
Day 5 - hike to Chesler/Elephant area and hike Chesler loop, including Joint Trail, and camp maybe at EC2 or CP1 or wherever we can get a site
Day 6 - hike back out to Squaw Flat TH, perhaps with out-and-back to Druid Arch that morning or the prior evening

The woman on the phone at Needles Visitor Center initially said we'd probably want to stop after the Salt Creek backpack, but when I told her we wanted something a little longer she was really helpful and described her preferences to extend it (with our mid-trip water & food refill at the car). But I'm eager to hear what you BCP experts think. Yes? No? Other suggestions?

Thanks so much for any advice.