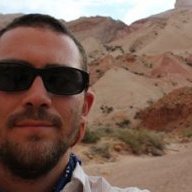 Desert Rat-Weekend Warrior
Joined

Jun 7, 2012
Messages

1,687
I'm planning a trip to Moab this weekend with my wife. I took a look at the forecast-low's of 48-52!!! This changed my mind from a carcamping trip to an idea of the "real stuff."

Moab is definitely on the agenda, as Jodi wants to drive the route of the Thelma and Louise 1/2 marathon she's running in June.

I'm thinking about beginning in elephant canyon, hiking down to angel arch, and hike out. Is this too short for two nights? We did druid, and chesler in fall in one night without much strain.

Is there something else you would recommend in the area?

We're planning on leaving early friday morning, and don't have to be back until late Sunday night.