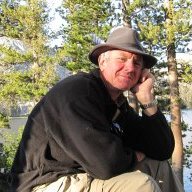 Joined

Sep 30, 2014
Messages

704
As M's tendonitis in her heel continues to be an issue, we have slowly but surely begun to take a few trips this summer. We're way behind our usual average, but things seem to be getting better....and so we thought we would look for a trip that wouldn't put too much stress on her heel. That means not much uphill or downhill, and those hikes are hard to find in the Sierra.
But Saddlebag Lake, just east of Yosemite, offered the perfect solution this past weekend. While the ferry across the lake no longer operates (sadly the lodge at the lake is closed, possibly forever) the trail around the lake is relatively flat. We took the trail around the west side of the lake first, mainly because it was shorter, and would mean a quicker return to the car if things didn't work out. This trail is full of chunks of scree and talus from the mountain above, and so the walking is a bit of a chore. But we were on the trail, nothing hurt (more or less) and the day was perfect.
Once at the top end of the lake, we aimed left towards Wasco and Steelhead Lake. But we also noticed that there were a lot of people here. Not unexpected, as this is one of the few places you can hike out of the Tuolumne Meadows area with no trail quota. Greenstone Lake had quite a few groups, and the area between Cascade Lake and the outlet to Steelhead Lake had more than ten tents visible right away.
Hmmm. Not what we like best about backpacking. So we went off trail up to little Z Lake, nestled in the middle of the loop trail, but about a half-mile from any of the loop trail itself. It was a smart move. We saw only one other person while we were there--a dayhiker who looked somewhat confused--and we had a peaceful, lovely afternoon and evening in the High Sierra. The views here are gorgeous, and sunset was spectacular.
On the way out, we again went cross country to Hummingbird Lake, and then followed the much nicer and more scenic (but longer) trail around the east side of the lake.
Fishing as Z Lake was dull---lots of tiny brook trout. And you may notice that we continue to have issues with our little camera putting bugs where no bugs belong. sigh. It may be time to upgrade...
The rest of the photos are here:
https://photos.app.goo.gl/v1KoaCTTpPv76ryY6