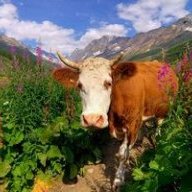 Joined

Dec 18, 2012
Messages

85
I have some more old stuff for you guys, this one is from 2015, also in Croatia.
It's called Otok Sveti Grgur. In English it would be called island of saint Gregory.
It was a womens prison in communist Yugoslavia from 1948 to 1988.
We visited this island in the course of a boat tour (which continued to Goli Otok, another prison island, but I will talk about that one later).
A triangle shaped patch caught my eye, as we approached. The purpose of this thing was to collect rainwater.
It looks so friendly that you wouldn't think this ws a prison.
The powerplant
Another building
The exhaust looked interesting, so I had to see what's inside.
A scavanged generator
And the remains of controls
But the nicest thing was the heart of the power plant, the engine.
Timing gears
Crankcase
Too much play?
The air filter is just a slotted tube.
Some kind of pump.
Another rotor
There was more to explore but unfortunately we didn't have enough time, that's the downside of boat tours.
As we sailed on, we passed several lookouts.
And our next destination ws already in sight.
To be continued...
Last edited: