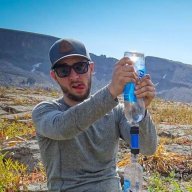 Joined

Mar 10, 2015
Messages

94
Trip Planning for the season has begun and I am thinking Rocky Mountain will be my first backpacking trip of the season. I'm looking to do the CDT Loop that starts out of Grand Lake. I believe it's about 30miles, so I'm thinking of doing it over 3 days. I'm considering making this my first solo trip as well as I don't expect a lot of friends being able to join me this year. So I have a few questions:

1) Does this seem like a "safe" doable first time solo backpack? I'm thinking it is a pretty well traveled park with few bears so I should feel a bit more comfortable. I've done 25 miles in the Smokies, 50 miles in Glacier NP and hiked most of the Teton Crest Trail in the Tetons this past September so even if the nights are chilly I would be prepared, it's the snow that concerns me.

2) Would doing this hike in mid to late June be possible? I know there are some high elevation sections and a nice long 6mile hike above tree line so not sure how snow pack will be. Looking at the weather from the past 2 years it seems like it was pretty warm all month, temps hitting the 90s, and with global warming and all I kind of imagine it will be again.

Also I wouldn't mind hearing about some other options in the park. I would love to be near water and wildlife while in the park if possible. Looking for a 3 or 4 day hike.

Thanks!
Last edited: