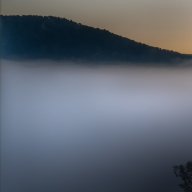 Joined

May 19, 2012
Messages

1,968
I have been cleaning up some of my old posts, I had a hard drive failure and a lot of broken links for the pics. This is a trip from 2015.
There are 2 days in the year that belong to ME, and that is my birthday and fathers day. My son say's fathers day does not count, as it is a "Hallmark Holiday", but I disagree wholeheartedly. My birthday was November 6th, and I was thinking of going somewhere on Cedar Mesa. I emailed
@Nick
to see if he was interested, and he talked to
@slc_dan
and pretty soon we had a trip. It turns out we were going to have Sage and Mya (no dogs allowed in a lot of Cedar Mesa) so Nick suggested a spot near Colonnade Arch above the Green River that he knew we could car camp at. So I drove to Green River and parked my car, and met Nick and Dan, loaded up my stuff into Nick's truck.
On the way over from the Cisco offramp, the La Sals with Fisher Towers:
We headed off into the unknown, getting dark, and windy, which was a drag. Heading
south from Green River. No major obstacles encountered, arriving in the dark at our spot. Got the fire going, and I actually stayed up to my birthday. The wind had stopped, and the world was good.
My new tent Mountain Hardware Skyledge 3DP, and an amazing view to wake up to:
After breakfast we start out for Colonnade Arch, not far way, we take our time, photographing, being constantly amazed.
Hiking up to the top of the arch:
Saturday was spent driving out to Hans Flat, and trying to find a road to access a hike to see a rock art panel, only to find it closed. We then decided to go to a spot Nick knew of near the Dirty Devil River. On our way, Nick looking into a canyon:
The spot Nick chose for us to camp was one of the most surreal landscapes I have been in. Hoodoos, caves, mini arches, and to top it off an amazing fire ring, hippie like and much to my liking. You have to walk a circuitous path through rock formations to find it out on a point.
This was probably one of the best camp spots I have ever had. I got to set my tent up at the head of an enormous basin of slickrock, with domes, pinnacles and canyons below, rock as far as I could see, with the Henry Mountains in the distance. The next morning:
Early the next morning
Time to pack up and go.
It was a great birthday.
Thanks for looking.
Featured image for home page: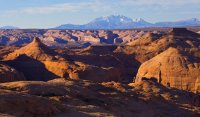 Last edited: