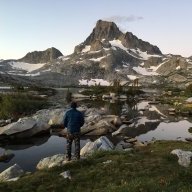 Joined

Feb 9, 2017
Messages

236
Plan A: An island on Lake Temagami fishing for a week
Plan B: Use that week to fly out west and do a trip to Yellowstone
Plan C: Do a local trip for a couple nights
So, plan C it was. In addition to my usual hiking buddy Tim, two other friends came along. Turned out to be a pretty cool plan C.
Roaring Plains West Wilderness was set aside in 2009. Over 6800 acres with only 7 miles of trails (official, anyway). According to wikipedia, it is the largest and highest flat-topped plateau in eastern North America. Dolly Sods borders it on the north. It is home to black bear, rabbit, turkey, fisher, and deer (we saw none of those, but we did see bear scat in a couple places).
We had an unambitious route planned. Day 1 was getting down there and hiking 2.5 miles to basecamp. Day 2 was a dayhike cross country to the rim of the canyon. Day 3 was heading back out and home. It reminded me of being a kid and going "camping" with my friends. Mostly, it was just hanging around in the woods for a couple days making fun of each other.
We stopped for lunch in Davis, WV and I realized I forgot my food at home (again!), so I had to make a quick stop at the grocery store. Several dirt forest roads later, we were at the trailhead. The trail starts out with some boardwalks to protect the bogs. Then goes up into some forest. Easy walking, pretty trail.
This guy has been on more backpacking/river runs/yurt skiing trips than I'll be able to do in my life. But he hasn't been backpacking in 10 or 15 years. So he had a mish mash of old gear. He referred to himself as "Hobo Joe".
We set up camp and wandered around collecting firewood and exploring. Our short hike allowed us to haul in a fair amount of booze, so we spent the evening around the fire having a few drinks. The moon set around 11:00 and brought out a ton of stars (that I don't have any pictures of).
Day 2 was up to the canyon rim. The hike was typical of the area, switching between woods, meadows, boulder fields, pine forests, and plateaus. There is an unoffical Canyon Rim Trail and there is a very unofficail Hidden Passage Trail to get to the canyon rim. I've seen where a lot of people were not able to find the Hidden Passage, but it was mostly easy with GPS waypoints. Well, easy except the rhododendron and mountain laurel thicket tunnels, of which there were many. Without packs, our moving speed was only about 1.5 mph. There were some cool views along the rim and lots and lots of blueberry bushes (we missed most of the blueberries by a couple weeks).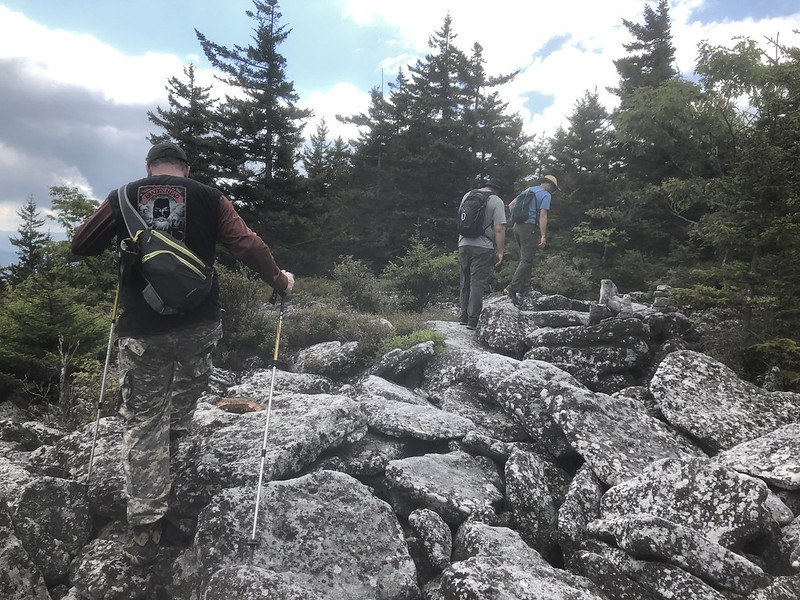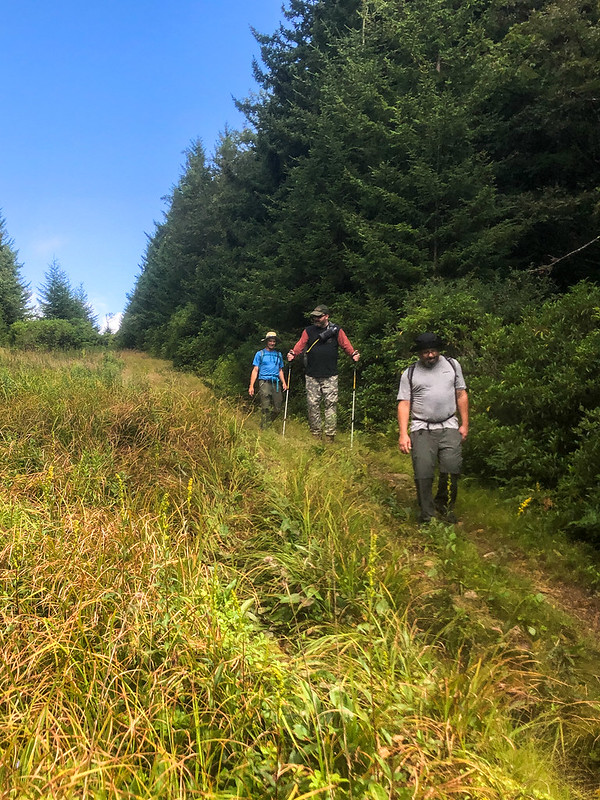 We got to "The Point" for lunch and those views were awesome. It is where two canyons come together and on top there are big rock outcroppings.
Once we got back, we just ate hot dogs, made up insulting nicknames for each other, and watched the stars come out. The winds that night were fierce, I guess that is typical there. Like you hear it coming, then a couple seconds later there is a huge gust. Went like that all night. We had a little rain on the way out and it was very overcast. Guess we just barely picked the right days to go.
No big miles, no soreness, just a great couple nights out in the woods. I would like to go back and get out to Haystack Knob and maybe go in the fall, or in the spring when the mountain laurel is in bloom.