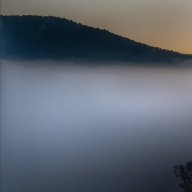 Joined

May 19, 2012
Messages

1,806
The first time I camped at the end of Cigarette Springs road and day hiked to the Citadel, it was a day filled with weird experiences. First off I nearly got stuck in my car driving to the camp spot the night before. Full moon. I arrived at the site and there was another car. What a drag. He left immediately after I pulled up.
I did not sleep that night, which is unusual, as i like being in my tent in the rain. So I was tired and grumpy on my hike the following morning. It was cold and drizzly. I was feeling a little weird on the hike. It had looked like it would clear up, but it didn't. On my approach to the Citadel about 100' below I twisted my ankle, not too bad. I wrapped it up tight with an ace bandage, and it felt better. Then I had a bright idea. I was going to go look at the ruin. I had come all this way and it was right there above me. Bad idea. I took one step up (pain) and dropped my camera, a little Kodak point and shoot (actually not a bad little camera), and watched it bounce down the slick rock out of view. I sat down, pretty pissed off. My ankle hurt. It was raining. I lost my camera. I decided that there was some kind of bad vibe here. I am not a particularly spiritual man, but I felt like something did not want me to be there. Plus I was by myself with no one around. I turned around, defeated, and limped, painfully, back to my car.
I don't know why I decided to go to the Citadel on my 50th birthday, in 2008, maybe 5 or 6 years after my first experience there. Maybe I wanted to make peace with the place.
So when my three friends and I camped at Cigarette Springs, everything was much better. It was clear but cold. It was early November, so we were prepared for frigid nights. A little hung over when we started, a 2 day trip down into Road Canyon and a visit to the Citadel.
The hike over from Cigarette Springs is a beautiful one. Hiking through the pinon and juniper and arriving at the canyon, with a view of the peninsula that oozes out into road Canyon, with the Citadel at the end. The hike was uneventful, and extraordinarily beautiful. Clear crisp air.
It is a pretty unique place. First off it is in a spectacular location, the thin connector of stone with steep drops off on either side, leading out to the ruin.
But why build out on this lonely, exposed point? You are a long way from water, Cigarette Springs is a few miles away. There are a lot of pot holes I guess, that would help a lot.
Maybe a reason for the location are the unobstructed views to Sleeping Ute, maybe they signaled messages? Who knows.
So on the approach to the skinny access ridge, I decided to sit down and contemplate why the hell they wanted to live here. Good views, that's a plus. Access to water is a negative. Not a very deep overhang for weather protection, but enough for solar gain in the winter and protection in the summer.
I decided that maybe fear drove them out here. Not a ground breaking theory I know.
The spot is defensible obviously, but someone could easily keep you from getting out too. This place has bad vibes, at least for me. Beautiful but kind of haunted.
I have had similar feelings in cliff dwellings that have sketchy defensive entrances, or spooky petroglyphs.
The photo below is looking the other way from the photo above. This was an interesting corner at the end of the building. It was really fun taking the time to study this place. You can see the later addition in the foreground with sloppy inferior stone work, compared to the original building wall in the background that is quite beautiful, straight corners. Maybe they were in a hurry in the addition:
One of the top 5 all time lunch spots::
Walking back to our packs:
My friend PJ (shown above) and I did a great loop backpack years ago, we parked at the old parking area for Moon House, but went the opposite way into a canyon that connected with Road below, then up Road and out, then back to the car. A nice loop.
I was excited to see Road Canyon again, we dropped into the canyon and headed down, until we found 7 Kivas.
Opening in roof:
An interesting petroglyph below the kivas, maybe a family falling to an untimely end?
Looking down canyon. We decided to check out the cave above:
Others had preceded us, as we found this prayer flag:
Road Canyon, we camped around the corner to the left:
Our camp spot in Road Canyon:
We left the next morning for the hike out and long drive home.
I am glad we had such a great time visiting the Citadel. But I still think it is kind of creepy.
Thanks for looking.
Last edited: