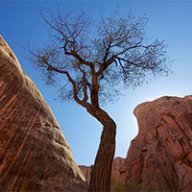 Joined

Aug 9, 2007
Messages

12,939
Camping over New Year's Eve is one of my favorite things. Unfortunately, it doesn't happen as much as I'd like. With such an active winter, it seemed like maybe this year would be missed as well, but we ended up with a nice weather window over the end of the year that made for some fine camping weather. It was cold, but the weather was clear. I'll take it.
@slc_dan
and I, along with pups Sage and Mya, headed out from Salt Lake early on the morning of the 31st en route to Big Water, Utah, just outside of Page, Arizona. We battled snowy roads on the way down but as we neared our destination, the clouds parted and the sun was shining. After about five and a half hours we were in Big Water making the transition from pavement to dirt.
Our destination was Alstrom Point to meet up with
@Artemus
, Becky and Luna where they had been boondocking for the better part of a week. On the way out, we ran into Art and decided to all pile into my truck. He was headed in toward Page for supplies and we wanted to scout out a potential new campsite out on Stud Horse Point. We picked up the supplies and spent a couple hours navigating the network of roads out on Stud Horse. Some of them were very rough which was particularly fun since this was the maiden voyage for the new truck. We stopped at a couple spots including the Stud Horse hoodoos but I never got my camera out.
Soon we realized we were cutting it short on daylight and we really wanted to see golden hour at Alstrom, so we got back in the truck and raced out there. After a quick stop at camp, we hopped back in the truck and drove the remaining couple of miles out to the point. The views were nearly as good at camp.
Sage poking around.
The earth shadow that night was probably the highlight. The golden light was good but a few clouds would have helped. We hung out and watched the shadow creep higher.
Mya and Glen Canyon
And then it was back to camp. It was breezy and cold and we were grateful when Art invited us to their trailer for dinner and drinks. Thanks again, Chef Art. We stayed in the trailer chatting and sipping on champagne. I was surprised how comfortable it was to be in such a small trailer. I think I'm sold.
But this was New Year's Eve and we had plenty of wood, so eventually we made our way out to the fire pit and got things rolling. I totally love being able to close and open a year sitting around a fire.
As I went to bed in the back of the truck that night, I remembered that I brought my new Little Buddy heater. I had picked it up for boat camping but thought I'd throw it in just in case I wanted to warm up in the morning or something. Anyway, I turned it on and hopped into bed and let it warm me up a bit. I meant to immediately turn it off, but I passed out instead. I woke up the next morning to goose feathers drifting around and a giant hole melted through my 5˚ down bag. Let that be a lesson folks... no sleeping next to a buddy heater! Thank goodness for flame resistant fabrics!
The next morning we soaked in some sun before heading out for a hike in Wiregrass Canyon.
There is a spot in the canyon where it slots up and drops pretty fast. I took the bypass with the dogs and Dan did the direct descent (pretty airy). The bypass had a nice ledge where you could see down into the canyon.
Sage on the bypass route.
The descent from the bypass was really cool.
Our destination for the day; the upper Wiregrass Natural Bridge. Anyone know if this thing has an actual name? It's actually a really cool natural bridge. It is very unique in that it is also a confluence of two drainages. The drainage on the right used to continue another quarter or half mile before connecting with the fork on the left.
On the way back, Dan told me I needed to go see the part that I had bypassed up until the climbing section. He was so right. This turned out to be the highlight of the canyon.
Fantastic tafoni walls.
And a very interesting white slot section.
The climbing section. You have to get up on the right and skirt around that drop.
The geology here is good for climbing if you're into that.
Mya starting her way up the lower end of the bypass.
When we arrived at the trailhead,
@ashergrey
was there waiting for us. We were thinking about taking a drive up the Smokey Mountain Road until we realized we were once again short on light. Time to head out to Alstrom Point! Some nice badlands along the way.
Dan and Becky stayed around camp and Art, Dave and I hopped in the truck and headed out to a new to me area of the point, right above Gunsight Canyon. There's
@Artemus
working on not freezing to death. It was very windy and very cold out there that night.
Dave being way too close to the edge.
The clouds and new perspective turned out better than the night before.
You can see Cookie Jar Butte just left of center in this photo. That's where I camped last January when I went out on the boat solo.
Stitched pano.
Another of the new ride.
Blue hour wasn't shaping up as nice as the previous night, so we hopped in the truck to warm up and drove out to the other side of the mesa. This is now looking southwest toward Wahweap. That's Warm Creek in the foreground.
We spent the second night like the last, the first few hours in the trailer and the last few around the fire. Even with another person, the camper was cozy. I made a point to leave the heater put away that night, but not after first passing out in my chair around the fire. Great trip and a great start to many more bag nights in 2016. Happy new year, all.