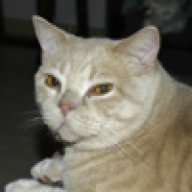 Joined

May 29, 2013
Messages

136
Tusher Canyon
or to be more precisely: Right Hand Tusher Canyon for most of the time spent.
Years ago we visited Left Hand Tusher Canyon for some pictograph panels but pictographs are not our primary interest. This time we decided for Right Hand Tusher Canyon and the road that goes up to 7,500 feet. Our maps told that it ends at a gas well. From there a pack trail continues into Nutters Hole on more than 8,500 feet.
Starting point is in Green River at the intersection of Main Street and Hastings Road on the east side of the Green River (12S 0575064 4315991). Hastings Road runs up into Gray Canyon. These days it is blocked not far away from the so called Nefertiti, a natural rock sculpture resembling Egyptian pharaoh Echnatons wife. (Distance from Green River to road end: some 18 miles)
This time we use Hastings Road for the first seven and a half miles only. After crossing Tusher Wash the intersection to Tusher Road is at 12S 0576041 4326969.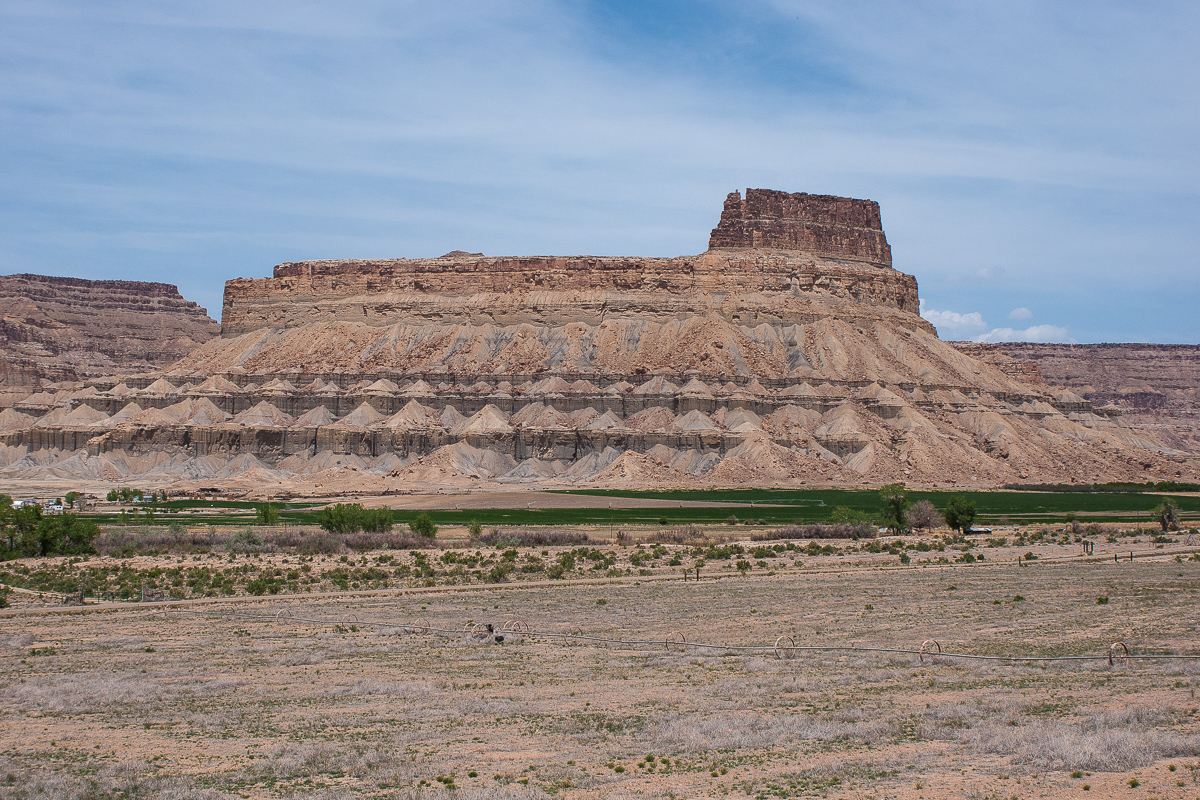 Gunnison Butte on the west side of the Green River (from Hastings Road)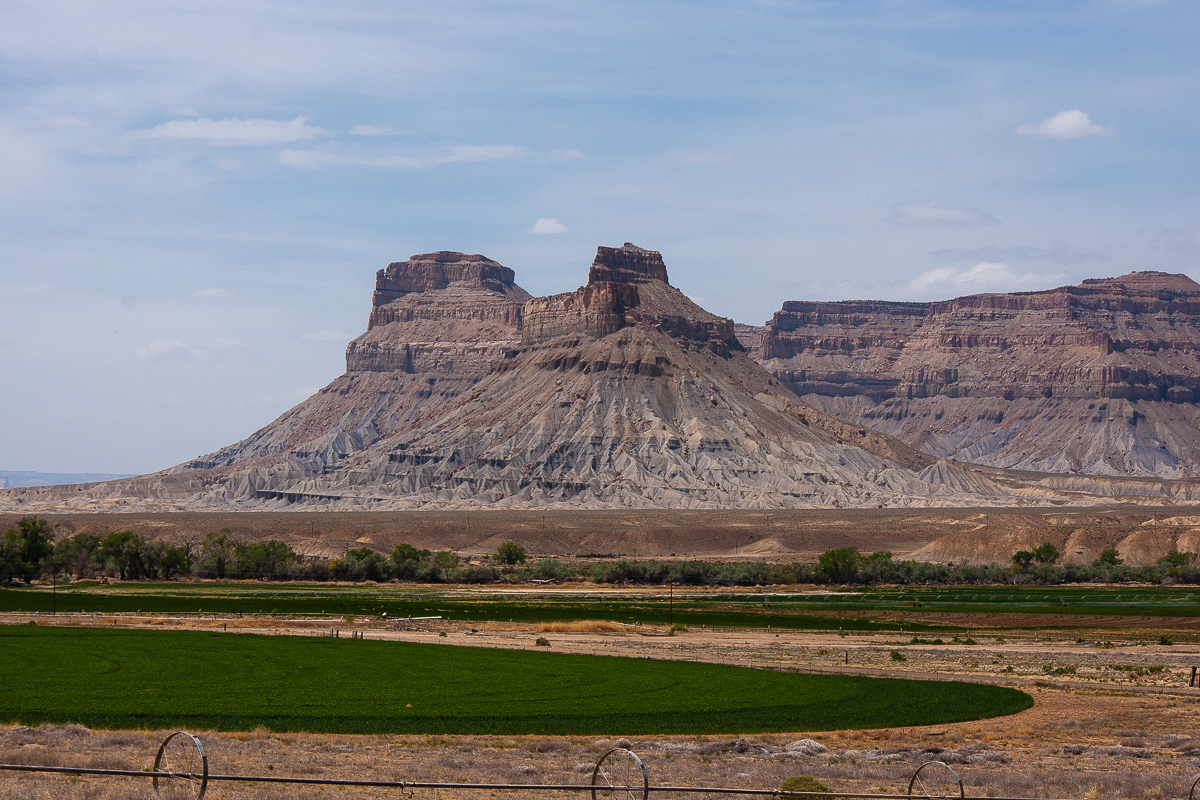 Battleship Butte
Tusher Canyon Road
The Cliffs and Buttes on the west side of the Green River (from Tusher Road)
The pretty good road proceeds south east (at the beginning), circles around a hill and reaches Tusher Wash after about one and a half mile.
Some scenery besides the road
This is not Red Rock Country. It is grey and tan brown at most. Sediments near the Green River Valley are mainly Mancos and from the Mesa Verde Group.
The low lying sediments are soft but separated by some distinct harder layers separating then into several storys.
The sandstone on top is much harder
Lower Tusher Canyon
Lower Tusher Canyon is framed by the Tusher Canyon Bench on both sides. This nearly level bench rests about 600 feet above the canyon floor in the lower canyon.
Tusher Canyon Bench on both rims
Seems to be a fallen rock from Mesa Verde levels.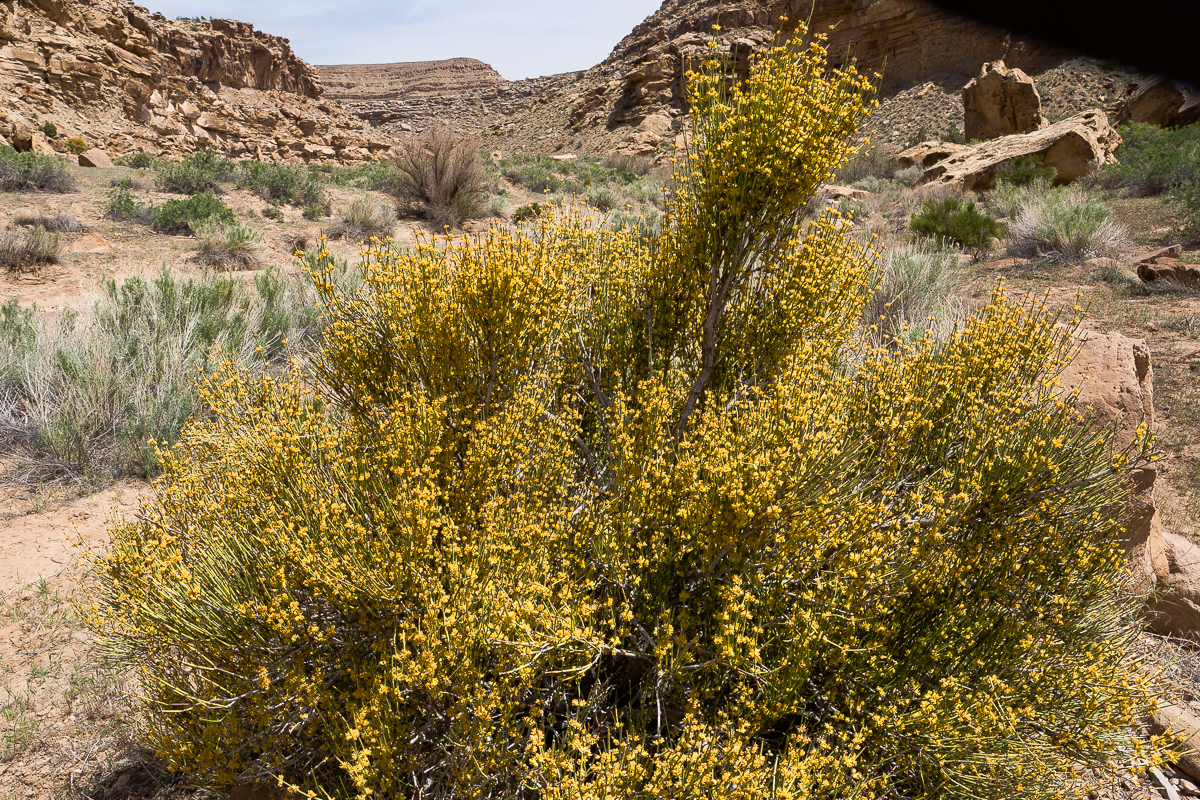 Mormon Tea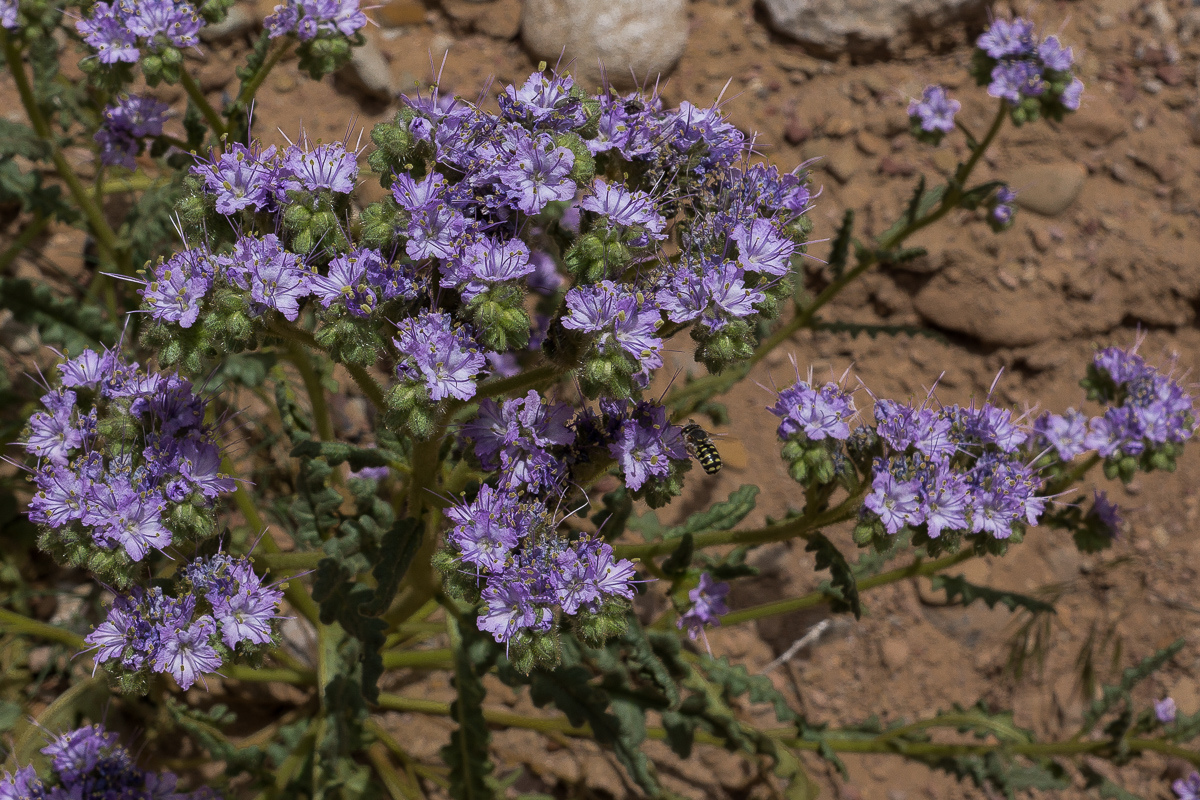 Purple Sage
You don't need a Jeep Wrangler to travel this road
Now we are not far away from the place where the canyon separates into Left- and Right Hand. We visited Left Hand Tusher Canyon years ago.
At 12S 0584700 4327742 we turn right (south). As usual the road seems to be something like a mining road. Our Topomaps show the road for another 14 to 15 miles ending near a gas well. After that it seems to be a pack trail up into Nutters Hole.
Mineralized Road
Not an official name: We call it Boulder Bridge
Another Jeep is coming down the road. The couple tells us there is not much change in scenery traveling farther up. They found something like a campsite where the road ends. We meet these nice people again some days later at the Westwind Gas Station in Green River.
Their report does not discourage us immediately. The map shows a Showerbath Canyon (and Spring) some miles ahead. Give it a chance!
Dry waterfalls but the white minerals show where they are in case the water runs
We are at the mouth of Showerbath Canyon and nothing has changed. We feel this is hunters territory only. It is early in the afternoon and we decide to turn around. 12 miles down the canyon there was another promising trail....
Not far away from Showerbath Canyon
Last edited: