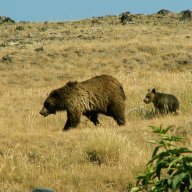 Joined

Jan 23, 2012
Messages

601
Yellowstone 1 submitted a new Trail Guide:
Ribbon Lake
Ribbon Lake is a small but beautiful lake that sits just southeast from the rim of the Grand Canyon of the Yellowstone. It is surrounded by old growth forest and is actually two lakes connected by a "ribbon" of marshy area and stream, which is how the lake got its name. Surface Creek flows out of Ribbon Lake and creates Silver Cord Cascade as it plunges over the rim of the canyon 1,000 feet to the bottom

The hike to Ribbon Lake is a relatively short hike with views along the southern rim of the Grand Canyon of the Yellowstone. The views into the canyon from along the rim make for an especially picturesque hike, but with some element of risk. There are no guard rails along the trail and there are a few spots that might make someone afraid of heights a little nervous.

This trail system is located on the northern end of the wildlife rich Hayden Valley, so it is highly advised that the guidelines for

hiking in bear country

are strictly followed.
Read more about this Trail Guide here...