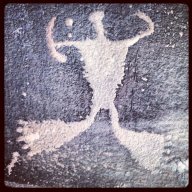 Joined

Oct 24, 2012
Messages

359
If there is one good thing about having big feet, it is this: free shoes. Believe it or not, I've never almost hardly ever had to buy my own shoes. When my friends or family spot a giant pair of shoes at Goodwill they say "Hey I know a guy that could wear those!" This works out great for me because I am cheap and miserly.
Here's the deal though, my feet aren't really THAT big. I wear a 13-1/2 which is not freakish at all. Apparently however, my feet are just big enough that everyone I know who sees a ginormous pair of shoes immediately thinks of me and my poor feet and wants to help. I have a friend who once caused a minor traffic jam when she made a sudden u-turn on a busy street. She had been driving by a yard sale and saw a pair of size seventeens that would be
perfect
for me.
I've always wondered why all the interest. Maybe my family thinks huge shoes are hard to find and must be grabbed on sight? Could be. I wouldn't know since I've never had to buy a pair.
I guess big shoes are fascinating in much the same way a circus sideshow is fascinating. I admit that I also, on occasion, will stop and admire a big shoe on a store shelf. Pick it up, turn it over, check the size, nod respectfully, think of the poor sole (ha!) that wears this museum piece.
More Self-indulgent Digression:
As I write this, it occurs to me that perhaps I've unwittingly encouraged this shoe buying behavior by continuing to wear the giant shoes people get for me. I have zero fashion sense and I'm sure I look ridiculous stomping around in oversize footwear. If that's what everyone always sees me wearing, they're going to assume I have oversize feet... Right? Wow I think I just figured this thing out!
Anyway, I've said all this to provide completely unnecessary context to an entirely time wasting review of This Pair of Size 14 Boots Someone Gave Me. Behold...
These are Timberland "work" boots. I don't really use them for actual work. They don't have safety toes and I doubt they would hold up very long in a brutal work environment. I walked them through a cow pasture once if that counts. They held up fine but smelled somewhat funky afterwards.
Still Life With Boot
(not a real painting)
I mostly use them in the winter time for stomping around in snow. They are not water resistant so I usually don't stay out too long. This year I plan to coat them with some waterproofing. We'll see how that goes.
"But have you ever hiked in them?" you are no doubt asking. Yes. Yes I have.
Hiking in them
I tied them on for a fourteen mile hike earlier this year. They are obviously not hiking boots but they serve a valuable purpose: ankle protection. You see, my reportedly giant feet are connected to the rest of me by modestly sized ankles. I've sprained these ankles several times, and rolling a foot in the backcountry is not something I want to try.
Used in conjunction with tape and good socks, these boots provided excellent ankle support. There were a couple of times that I stepped wrong and felt things tweak, but the boots kept me upright.
Shoelace issues
For maximum support, I lace them all the way to top. Here I will mention one of the problems I noticed with the boots... The stock laces were too short. I had just enough shoelace to pull my little 1st grader knot together, but there wasn't any extra lace dangling reassuringly from the knot. I was constantly checking my boots during the hike to make sure they were still tied. If you're someone who likes to fasten up with a double pull three twist bowline quadruple windsor air-to-fakie knot, you're definitely going to have to upgrade those laces.
The boot was a little large on my foot, but that worked out great because I was able to use my magnetic insoles (see below). The insoles tightened everything up and made the boots fit snugly.
Bonus mini review: magnetic insoles
These are awesome. These things actually make me look forward to putting my boots on in the morning. They are not soft and cushy like typical insoles, but they still manage to make my feet feel special. I think they are supposed to help with blood circulation or something like that. Whatever it is, it works for me. Just don't get your compass too close to your magnetic boots or you will wind up lost and embarrassed.
The insoles are kinda expensive, but they last forever. I've used the same set in at least five pairs of shoes. That's probably more than you needed to know right?
Establishing and maintaining friction
The soles on these boots are NOT made for gripping rock, especially if there is loose sand or debris on it. Very slippery. They work much better in snow.
Weight
The boots are very heavy. They are not made of gossamer and marshmallow fluff, or whatever it is they make hiking boots out of these days. They also seemed to get heavier as the hike went on. Strange that.
tl;dr
Good
Firm ankle support

Got them for $free

Saying "Timbalan's"
Bad
Knobby soles are slick on slickrock. Will dump me off a canyon wall someday if I continue to use them

Out of the box laces are too short

Heavy

Still smell of cow pasture