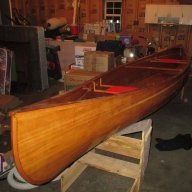 Joined

Jan 20, 2012
Messages

719
Goodbye 2015. You've been a good year. I've enjoyed the canoe trips, the camping trips, and the fishing. The getting to know new places, and the revisiting places of years gone by. Remember that Presidents Day camping trip back in January where we could have brought another blanket or two? Yeah. Good times. Or that day in April where my daughter knocked the baby off the camp chair and into the lake? LOL. Yeah, that was pretty funny. He wasn't such a big fan of the water after that. Then there was that huge old bullfrog that could jump it seemed like 3 feet at a time. My boy's big old grin when we caught it was priceless. Ha! I remember the campout the other one ran up with a huge nightcrawler when I was setting up the tent. He sure loved that new pet until it started crawling up his sleeve, then boy did he howl! Thanks to you (and my wife of course), that canoe I always intended to build I finally finished. I only wish I'd finished it sooner. Then we could have taken it out together. At least once, just you and me. I promise I'll take it out with 2016. I'll probably take it out a bunch with him. Those crazy kids of mine, they'll insist on going along too, so they'll come too. But it's your doing that it's done. 2015, I couldn't have done it without you. 2014, 2013, 2012 and all the rest, they weren't up to it. But you were. Remember those late nights we stayed up together, you and me out in the garage working on it? Man, some of them were late. That canoe though, it just came together better then I thought it could. I remember some of those late hours, when you and I were done working on the canoe for the night, and I'd shut the garage door and start to head for the house, but then we'd sneak back out and open the door for another peak. You and me 2015. Those were some sweet times. Just looking at the progress of a good night's work. I'd close the door then head in for bed with a smile on my face. I wish 2015 we'd been able to take it out for a paddle together.
As I think about it, there's a lot of things we could have done together that we didn't do. That backpacking trip we were going to do? We didn't get around to it. I promise I'll do it with 2016. We'll take the kids camping together too, just like you and I did. We'll take them to the beach. To visit Grandma. They sure didn't see enough of her when you were around. They'll enjoy playing with their cousins too. I'll take lots of pictures with 2016. We got a lot with you too! In fact, when 2016 gets a little older, we'll break out those pictures of you and let him know he's got some big shoes to fill. We'll probably laugh at some of those crazy ones of 2015. I think we'll reflect back and remember you and those good times we had together. Man 2015, you're not gone yet and I'm already missing you.
When you are gone, over there on the other side, look up 2014, 2013, and all the others for me. They sure helped shape you into what you became. There's some pretty awesome years there, and you'll be there with them. Give special regard to 2007, wow what a high-water year that was! But 2008 was unforgettable too. And 2009. How can I ever forget 2009? 2010, now that year tied directly into you 2015 more then I knew it at the time. And 2011... Aw, just give them all a big hug for me. They're all awesome. Well, maybe not that year I was 14. That year was pretty miserable. But the rest....wow.
2015, you were awesome. I miss you already.