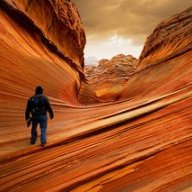 Broadcaster, formerly "ashergrey"
.
Joined

May 5, 2012
Messages

1,724
Bravo Caleb Shumway, for solving another Utah missing person's mystery. From the Grand County Sheriff's Office:
Date: December 24, 2015
Subject: Found human remains
Location: Adjacent to Tangrila Ranch
GPS: N38° 28.741 X W109° 39.512

On December 24, 2015 it was reported to the Grand County Sheriff's Office that a human bone and bag containing a handgun and magazine was found in the area adjacent to Tangrila Ranch that had been an area of an intensive search for a suspect in the shooting of State Park Ranger, Brody Young. The shooting of Brody Young had occurred on November 19, 2010.

Grand County Sheriff's Office met with Caleb Shumway, the person that had discovered the bone, on this date and were directed to the area of the discovery. Caleb is a local resident of Moab and was home on break from college and was in the area for the sole purpose to search for any evidence of the location of the suspect in the shooting.

The area consisted of huge rock boulders and ledges that formed numerous caves and crevasses. The area where the bone and bag was found was searched and the remains were located in a cave like area that was accessed by crawling through a narrow entrance way to a void in the rocks that was approximately 6 feet long and 3 feet high and approximately 3 feet wide. Evidence was located with the remains that lead investigators to believe the remains are those of Lance Leeroy Arellano, the suspect in the shooting of Brody Young.

The remains will be transported to the Utah State Medical Examiner's Office for positive identification.
For reference, here's the location provided by the Sheriff's office:
It's downstream of Moab on the Colorado, east of Dead Horse Point State Park near the potash ponds.