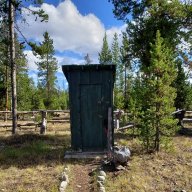 Joined

Feb 15, 2020
Messages

375
On an invite from a good friend, I headed out to the Sierra Nevada for the first time in a few years. I was really excited for this one - the Sierra doesn't have quite the "wild" feeling of my usual trips in the GYE or Winds, but the sheer size and beauty of the scenery is hard to beat - and the size of the trees never ceases to amaze me. Plus, the weather/conditions are just so good for backpacking - I feel like you barely need to bring anything.
There ended up being four of us on this trip - two of whom I'd hiked with before and one "new guy". Fantastic group and I'm already planning to hopefully bring them all out to WY for a trip next year. We met up in Mammoth and took a shuttle up to Red's Meadow where we camped for the evening surrounded by families and JMT hikers - a little loud, but a fun energy.
The route we followed is essentially the fourth section of Steve Roper's Sierra High Route (first published in 1982). Superlatives don't quite cover the scenery and the route itself is very fun - lots of nice scrambles and a good balance of route-finding w/ good walking. There's definitely more people out in the Sierra than I'm used to in the Wyoming/Montana wilderness areas though.
Day 1: Red's Meadow to Iceberg Lake (9.9 mi / +4,559' / -2,302')
We started the day off by briefly following the JMT by Devil's Postpile - a very cool formation I somehow failed to take a picture of. (Plenty to be found on Google, I guess.) We then turned westward towards Beck Lakes - we would leave the trail just after passing Superior Lake and remain primarily off-trail until coming down from Blue Lake Pass in Yosemite NP. We progressed north by Minaret Lake and Cecile Lake before dropping down a sizeable talus slope to Iceberg Lake - the Minarets forming an impressive skyline to our west.
Looking down on Superior Lake on the way up to Nancy Pass.
First look over Nancy Pass at the Minarets (left) and Minaret Lake (center).
Plaque honoring Nancy Scanlon - apparently the first of her party to reach the pass in 1967. Sadly, post-trip research tells me that Nancy died of childhood leukemia at only 10 years old.
Sat down for a snack at the bottom of the pass and got a good sting on the leg from this little guy. Looks like some kind of
Polistes
paper wasp - I think I sat on him first, so I'll cut him some slack.
The Minarets
Cecile Lake
Looking down on Iceberg Lake where we would camp for the night.
Home for the night.
Day 2: Iceberg Lake to Twin Island Lakes (8.2 mi / +3,289' / -3,215')
Today would begin one of my favorite sections of the trip - particularly North Glacier Pass down to Twin Island Lakes.
An early look at Mount Ritter and Banner Peak from our camp at Iceberg Lake - we would spend much of our day circling these impressive peaks before crossing the NE ridge of Banner Peak at North Glacier Pass.
Another look at Ritter/Banner from above Ediza Lake.
First glance of Garnet Lake and Thousand Island Lake.
Thousand Island Lake - apparently a pretty popular High Sierra destination, but we didn't see anyone else as we passed through.
Banner Peak from Thousand Island Lake.
Lake Catherine
Now looking at the opposite side of Banner/Ritter. I believe the primary climbing route for both goes up the glacier on this side and looks like a lot of fun.
The section from North Glacier Pass to Twin Island Lakes had some of the most intensive - and fun - route-finding of the trip. Plenty of opportunities to cliff yourself out - but there's always a view!
The lower of Twin Island Lakes.
The upper of Twin Island Lakes - we would camp for the night on the opposite side.
Day 3: Twin Island Lakes to Lyell Fork (7.7 mi / +2,755' / -2,747')
The following day would begin by countouring around a drainage, past an unnamed lake, and ending up in Bench Canyon on the way up to Blue Lake and Blue Lake Pass. The early section had some more route-finding to be done, but once we dropped into Bench Canyon and began our way up to Blue Lake the route was nothing short of idyllic. Blue Lake Pass itself is one of the most fantastic alpine passes I've ever had the pleasure of visiting anywhere in the world. It's not particularly difficult, but drops away quickly on both sides giving fantastic views - the Minarets and Ritter Range prominent to the east and Yosemite NP to the west.
First look down into Bench Canyon.
Lower Bench Canyon
Looking east from Blue Lake Pass.
West into the Yosemite backcountry from Blue Lake Pass.
After descending Blue Lake Pass the remainder of our off-trail section was just beautiful walking through large meadows until finding the trail down to the Lyell Fork.
Didn't get a picture because he bolted quickly, but I spotted our single black bear of the trip near camp for the night. (I preferred his company to the large group of young "kids" that setup nearby - but neither prevented me from getting a solid night's sleep, so it's all good.)
Day 4: Lyell Fork to Vogelsang Lake (10.4 mi / +4,031' / -2,830')
Today was a relatively tame, but very enjoyable, stroll through the Yosemite backcountry. We hiked through beautiful Sierra Nevada forest to Lewis Creek, where we headed upstream towards Vogelsang Pass and eventually Vogelsang Lake for our final camp. I convinced one of our party to join me on a quick summit of Vogelsang Peak, which has a pretty great view:effort ratio - even though it did add about 800' of climbing after a 2,000' sustained uphill just prior. (Definitely worth it.)
The trees out in California consistently impress me - nothing like these in the Rockies.
Large slab waterfalls abounded on our route today.
Lewis Creek below Vogelsang Pass.
The top of Vogelsang Pass.
Made it to the top of Vogelsang Peak just in time - the rain would hold off until we returned to the trail and only lasted about half an hour. (It was our only precipitation of the entire trip.) We could see Half Dome in the distant Yosemite Valley, but somehow I don't seem to have gotten a picture in that direction...
Vogelsang Lake down below - a beautiful spot for our final camp of the trip.
Home, sweet home.
Vogelsang Lake and Fletcher Peak as the sun sets.
Day 5: Vogelsang Lake to Tuolumne Meadows (7.8 mi / +190' / -1,858')
Our final day would be a smooth walk downhill to Tuolumne Meadows. Fairly uneventful, but a beautiful way to end the trip.
Looking down trail from near Tuolumne Pass.
Click here to view on CalTopo
DISCLAIMER: If you're looking to do a similar trip, I suggest a search for Steve Roper's Sierra High Route rather than following my track. I tend to take a few creative liberties with my route-finding.
Last edited: