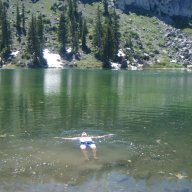 Joined

Apr 27, 2016
Messages

480
Disclaimer - If you happen to know where this is or want to hazard a guess please private message me rather than posting a response to this thread.
I am catching up on some posting. I have been uncomfortably busy lately.
My Dad has wanted to drive the
***REDACTED***
backcountry byway for years. The only problem is he has reached a point where on longer drives if he is by himself he may or may not nod off. With all of that in mind I decided we should do the drive. My Dad's one request was that I don't bring added attention to the area, hence the redactions.
My wife and I picked up a Tribe Basecamp trailer at the end of May and I figured this trip with my Dad would be the perfect first outing. So the first weekend of June I drove the 4 hours to meet him and we prepared for a wet/muddy drive.
Here is a picture showing off the new trailer with "Paco" our Tacoma.
One upside of how wet it had been at the end of May and beginning of June was this this is the greenest either of us had ever seen this area. Both my Dad and I have spent years exploring the area, but neither of us had ever done the entire
***REDACTED***
backcountry byway. We also saw a lot more wildflowers than either of us expected.
Not a flower, but I thought it was interesting.
We kept driving and enjoying the scenery, with occasional stops to take pictures and try our luck fishing some of the small streams.
My Dad thought he saw a flash of blue, and sure enough he spotted a mountain bluebird. He tried to get a picture. He has tends to over zoom.
Eventually we approached where we planned to camp for the night. The roof top tent had plenty of room for both of us but my Dad said his knees would have trouble with the ladder and he was also worried if he had to have a late night bathroom break he would forget he was off the ground and fall out of the tent. He had brought a small tent and a large cot. The cot barely fit in his tent and as he was setting up I heard a variety of profanities.
We ended up starting a campfire and just hanging out by the fire for the rest of the evening.
In the morning we woke up to a little bit of rain, but it wasn't too bad. Since I had taken care of lunch and dinner the previous day my Dad did breakfast. He made buckwheat pancakes, which were delicious.
We packed up camp and we finished off our drive and I returned my Dad home.
It was a great trip. I have been trying to make an effort to spend more time visiting my Dad and doing the types of outdoor activities he enjoys with him. I am sure he is already thinking up the next driving adventure we can take.
Again if you know the area or want to guess please private message me rather than posting publicly.