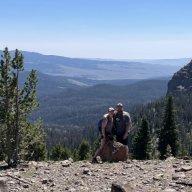 "Going to the mountains is going home".
Joined

May 26, 2019
Messages

112
Has anyone hiked Needle Creek in the Washakie Wilderness?

I'm looking for any info anyone has as far as if the trail is still in there and if there's any decent camping. As far as camping it looks decent the closer you get to the South Fork of the Shoshone, but super steep the further up the drainage you go.

I'll be right near where the trail supposedly starts up above Emerald Lake this summer and may add a few days to the trip if it seems worth it. I'm also looking to climb up to Red Tops, I've read before that it's supposed to be a pretty cool area, but haven't found much info.

Thanks for any info you guys may have.